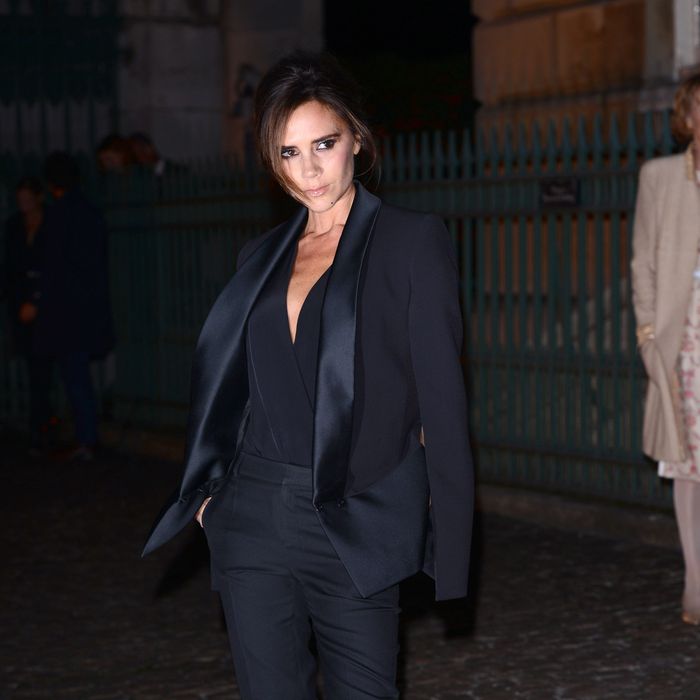 Photo: Karwai Tang/Getty Images
The fashion world is spending 2013 determined to dominate every digital platform. We've got Anna Wintour on Twitter, Nars on Snapchat, Diane Von Furstenberg hosting a shoppable Google+ Hangout, and now, Skype has teamed up with Victoria Beckham for a as a designer using a "ground-breaking storytelling format.*" Beckahm, who is no stranger to using popular digital formats to sell things, has a very close relationship with Skype: "Most evenings, I'm curled up in front of Skype, in my dressing gown, speaking with my studio in London," she told the Telegraph.  So naturally, Posh is giving Skype five years of total access (five years?) to her design studio: We'll see "all the fittings," meetings, and "cronut binges," and there may be a chance to video chat with the former Spice Girl. While we'd love to chat with Becks, what will five years of behind-the-scenes footage yield? There are absolutely not enough cro-nuts to sustain half a decade of entertainment. Remember when the Beckhams moved to Los Angeles, and we were introduced in Victoria Beckham: Coming to America to the charming post-Posh Victoria Beckham, her smile, and the word major? Television is a great platform, people. Let's not forget about it.
* This story has been updated to reflect that Skype is not producing a documentary.