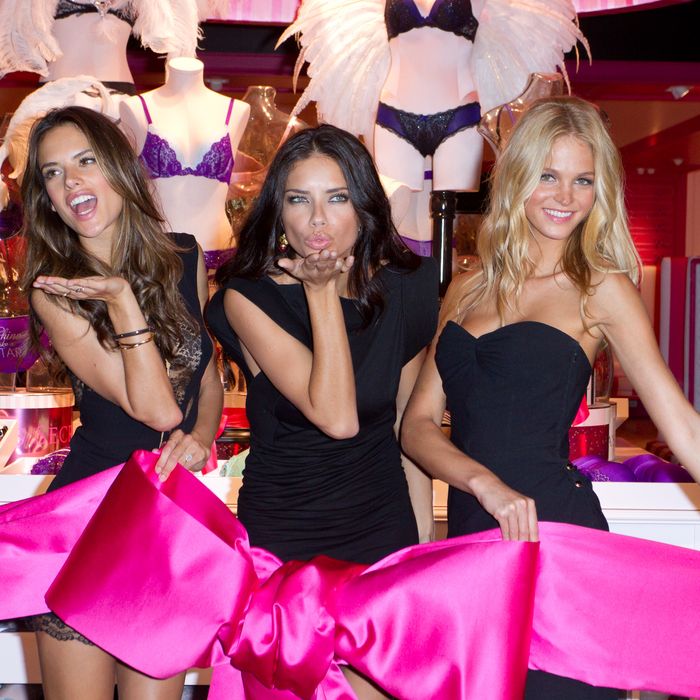 Photo: John Parra/WireImage
The Victoria's Secret Fashion Show, that annual spectacle of taut abs, spray-tanned quads, and propped-up cleavage, is drawing near. And creative director Sophia Neophitou — the same one who drew ire when she rather impolitely dismissed Kate Upton last year as looking "like a footballer's wife, with the too-blonde hair and that kind of face that anyone with enough money can go out and buy" — is busy choosing the lineup of women who will spend the next month and a half exercising any remaining subcutaneous fat into oblivion. Frankly, Upton is probably better off where she is: The show's casting process sounds like the stuff of nightmarish sorority hazing. Neophitou, who's also the editor of 10 magazine and considered a major force in the fashion industry, tells British Vogue:
It's quite terrifying for [the models] … They are provisionally cast by John Pfeiffer but the final decision is made by the whole team, sitting at this long table in a room with really harsh lighting and they have to walk towards us and away from us. They all have to do it — even the contracted girls — and it's incredibly nerve-wracking for them.
Yes, even the models under contract — Miranda Kerr, Alessandra Ambrosio, Karlie Kloss, and so forth — must submit themselves for pre-inspection. Do they get their "trouble areas" circled in black marker, too?
It's about being show-ready … It's really like being an Olympian — they have to be in peak condition. It's not about being thin or anything like that — it's about being ready to perform and be the best you can be in that moment.
"Not about being thin"? Well, they certainly had us fooled. True, this fashion show is far more like a performance than a normal catwalk, and celebrates physical strength more so than traditional runways. But to think that some of the world's most famous models live in fear of failing this fluorescent-lit evaluation seems rather inhumane, if not totally unnecessary.