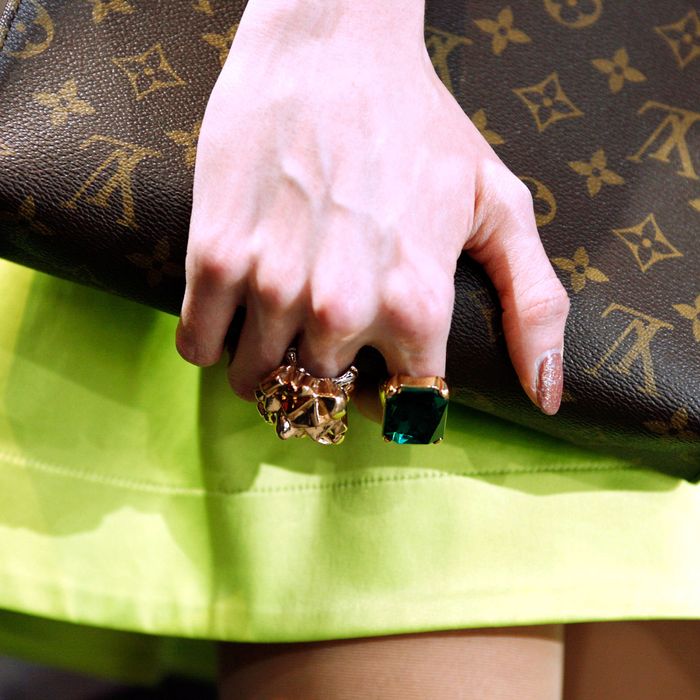 Louis Vuitton.
Photo: Anke Grelik/Getty Images
Luxury fashion house Louis Vuitton has hired a new designer to launch a special accessories category: "very high-end" leather goods, as opposed to just normal high-end leather goods. WWD reports that the brand has poached Darren Spaziani, formerly of Proenza Schouler, to head up the line, which is meant to "complement existing collections." Spaziani's past brainchildren include Proenza's wildly popular (and widely copied) PS1 handbag; he was formerly the design director of accessories at Balenciaga, and has consulted for Diane Von Furstenberg and Tory Burch.
So why does Louis Vuitton need to break into a whole new level of expensiveness? WWD explains:
The key hire — and thrust into hyper-luxury — is the latest signal of a more elitist direction for Vuitton, which is eager to burnish its brand positioning and leadership amidst cooling luxury demand in many markets.
That's rather cryptic, but it seems that Vuitton is attempting to specialize itself and perhaps elevate its price points. Instead of making lots of very expensive things for the very rich, they'd rather make a few extremely expensive things for the extremely rich. It'll be interesting to see what these products look like — a bag in the high four digits (or more?) is a different animal than a bag in the low four digits, and you'd better believe that the person carrying it will want you to know that.