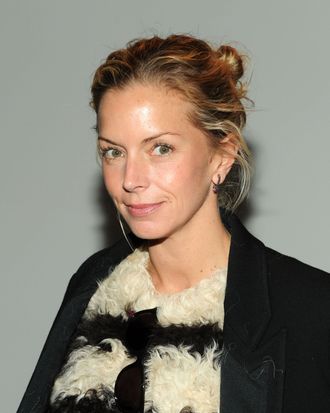 Photo: Ben Gabbe/Getty Images
Vogue's senior market editor, Meredith Melling Burke, has worked at the magazine since joining as a wee underling in 1997. In recent years, she's become one of the magazine's most public figures (or "friendly face," as WWD puts it), hosting events and going on TV to soften Vogue's icy reputation. Indeed, she was on the Today show just a few days ago, blonde and bubbly and talking about "accessible" fashion, of all things. Anyway, it seems that'll be her last time speaking on behalf of the publication; she's leaving to work on her own project, and taking the magazine's top bookings editor, Valerie Boster, along with her.
Burke wouldn't elaborate on her new venture, but there's been talk of her starting up some kind of Goop-esque blog/e-commerce enterprise, which isn't hard to believe. Vogue will surely promote it with the same vim and vigor they showed towards Moda Operandi (which was co-founded by one of their contributing editors, Lauren Santo Domingo), because you know how they like to keep it in the family over there.
No successor for Burke has been named yet; for now, her workload will be shared by existing staffers. Boster has been replaced by Helena Suric, formerly a model manager at DNA.