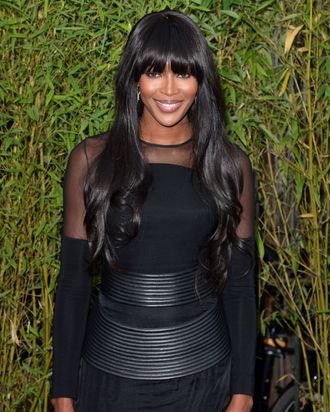 Naomi Campbell.
Photo: Rune Hellestad/Corbis
Today in unsubstantiated rumors: Naomi Campbell has reportedly been approached by "a major U.S. network" for her own talk show. According to the Daily Mail's unidentified source:
Naomi is a supermodel first and foremost, but she's becoming much more comfortable on TV now and really finding her voice… She's a perfectionist and if she does give TV a go she'd give Oprah a run for her money!
Let's not get carried away now, but imagine the possibilities for Campbell if this were true. She could pull a Tyra and show her real hair on air. She could give "been there, done that" advice on love triangles, interpersonal conflicts, and career comebacks. She could continue to address the state of diversity in the fashion industry and "mentor" aspiring models with tough love and the occasional screaming fit. Considering all of the above, it's amazing she hasn't gotten a contract already. Networks had better hurry up — she'll need advance notice to get her wardrobe in order.