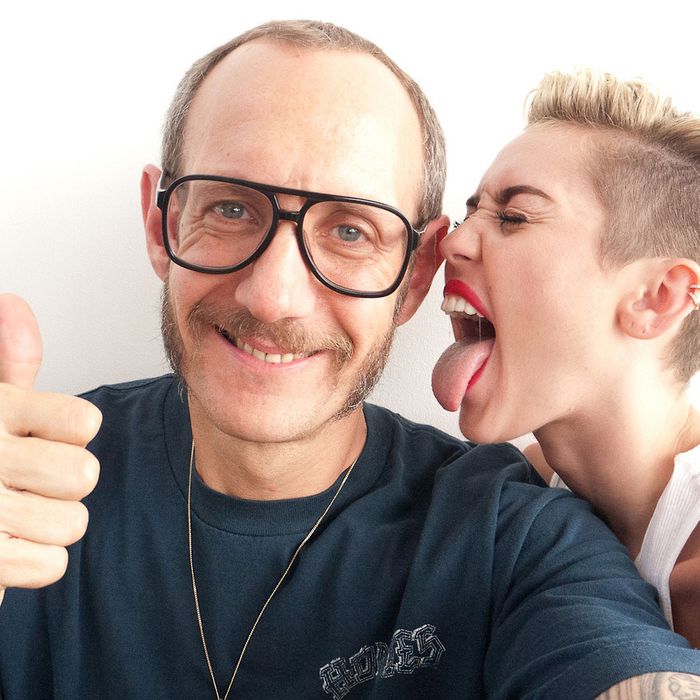 Photo: Terry Richardson/terrysdiary.com
One of the odd things about partisan media is that both sides trade in indignation and outrage despite having little idea how "bad" things on the other side truly are. When born-again former models go on The 700 Club to talk about the sins of Cosmo, all I can think is, Thank God no one's ever showed them V magazine. Case in point: Fox News has just discovered Terry Richardson, the famed photographer whose nudity-yielding artistic process came under scrutiny circa 2010 before being forgotten in favor of ever more eye-pleasing GQ covers. What could possibly make Fox News care about an intermittently controversial fashion and celebrity photographer? Only the ongoing corruption of the 20-year-old daughter of Billy Ray Cyrus.
Richardson directed the video for Miley Cyrus's new single, "Wrecking Ball," in which Cyrus straddles a wrecking ball naked — a symptom of Richardson's "checkered past," according to Fox. "Richardson … came under fire back in 2010 amid accusations that he had acted inappropriately with young models, prompting them to take their clothes off in his presence," Fox reports, rehashing the years-old allegations and denials, and reporting on the candids of Cyrus published on Richardson's blog. "He also posted a series of pictures of the starlet smoking, cutting her hair and even eating a salad."

Regardless of Richardson's past, it seems irrelevant to Cyrus's transformation. For one thing, Cyrus does not exactly require coercion to take her clothes off and stick her tongue out. She's pretty anti-clothes, pro-tongue right now. And, second, though technically more naked, "Wrecking Ball" is way less sordid than Cyrus's previous (woman-directed) video for "We Can't Stop." "Wrecking Ball," at least, has a kind of moral: Get naked and you will cry.