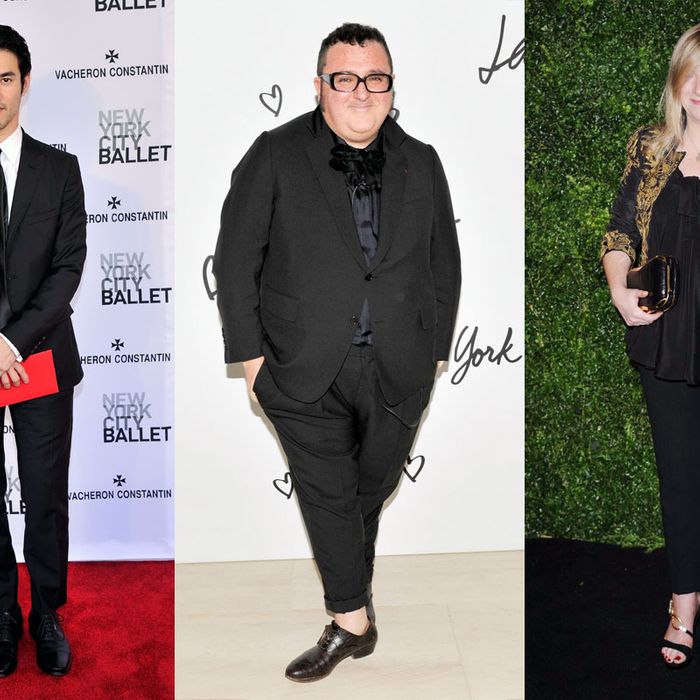 Photo: Getty Images, BFA, Getty Images
Over the past decade, many of New York's most lauded designers — like Alexander Wang, Proenza Schouler, and Zac Posen — launched their labels straight out of fashion school, with no more than a few internships as experience. But the rise to fashion stardom isn't usually so quick — even when it looks like it is. Oprah Winfrey backed Prabal Gurung before his first collection at NYFW in February 2009 even debuted, but Gurung worked under others for seven years, first at Cynthia Rowley then at Bill Blass, before launching his own line. Joseph Altuzarra's first runway show that same fall was attended by his friend and muse Carine Roitfeld. Altuzarra, who received no formal education in design, had been first assistant to Givenchy's Riccardo Tisci and an apprentice to one of the industry's best pattern-makers, former Rochas atelier head Nicolas Caïto.
Other examples of seemingly overnight fashion fame include Sarah Burton, who took over at Alexander McQueen after his suicide in 2010; Donna Karan, who ran the Anne Klein label for a decade before establishing her own brand in 1984; Alber Elbaz, who worked for Geoffrey Beene for seven years before heading Guy Laroche, Yves Saint Laurent, and now Lanvin; and Phoebe Philo, who assisted school friend Stella McCartney at Chloe before graduating to Celine.
Before they ascended to the top spot, all of these designers were basically unknown, and that's because it's in the interest of both fashion houses and their creative directors to keep top assistants behind the scenes. While the No. 2 role at a house is the best training to become No. 1 — most play a major role in conceptualizing and actually designing each collection, and those at larger houses like Calvin Klein and Ralph Lauren may work on multiple collections simultaneously — "it's very, very rare for a second-in-command to rise to the top," according to Marc Beckman, founder of Designers Management Agency, which helps broker designer deals with brands. "You have to be able to create superior design but also be unbelievably prolific. There are very few people on the planet who can do both," he says — and "The reality is, creative directors don't want the No. 2 getting any recognition."
The most noteworthy No. 2 coming into the spotlight this season is Danielle Sherman, a veteran of The Row and T by Alexander Wang, who will debut her first collection for LVMH-backed label Edun during New York Fashion Week. Founded in 2005 by U2's Bono and Ali Hewson, Edun has struggled to create a visual identity. Sherman, who helped launch The Row and was design director at T for the past five years, has a chance to build something new, and also represent a brand publicly for the first time. Last year, former J.Crew womenswear designer Marissa Webb, who was with the company for more than a decade, went out on her own after getting schooled by Mickey Drexler at J.Crew. In 2011, Todd Snyder launched his own line after spending twenty years working under Ralph Lauren and then Drexler.
Still, these are the exceptions. Most in similar deputy positions will go unrecognized. Ever heard of Nadege Vanhee, design director at The Row, who is credited by industry insiders with giving the already-well-received brand even more fashion cred? (She is a Margiela vet.) Or Theory's Marcos Soto, who was brought on a year ago by Olivier Theyskens, with whom he worked at Rochas and Nina Ricci? Or how about Sophie Richards, a senior designer at Reed Krakoff who did time at Mulberry and Rebecca Taylor before landing at the former Coach creative director's namesake brand.
Such recognition is not encouraged. I reached out to more than ten New York–based brands, and every single one refused to let its No. 2 go on the record. Some junior designers I spoke with off the record said that their superiors were not okay with a non–creative director speaking on behalf of the brand or even on behalf of themselves; poaching was also a concern. Even the mention of one designer's name in the article at one top New York brand could threaten his standing at the company, the besuited No. 2 told me.
But it's not always about PR and politics. Beckman brings up designer Peter Speliopoulos, Donna Karan's longtime No. 2, as an example of a talent who works best behind the scenes. While Speliopoulos rose in the mid-nineties to be the creative director of Cerruti, he eventually returned to Donna Karan to work under his longtime colleague and mentor as the brand's current SVP of design. "He is a massive force behind the Donna Karan brand, yet you probably have never heard of him," says Beckman of the designer.
Well, now we have.