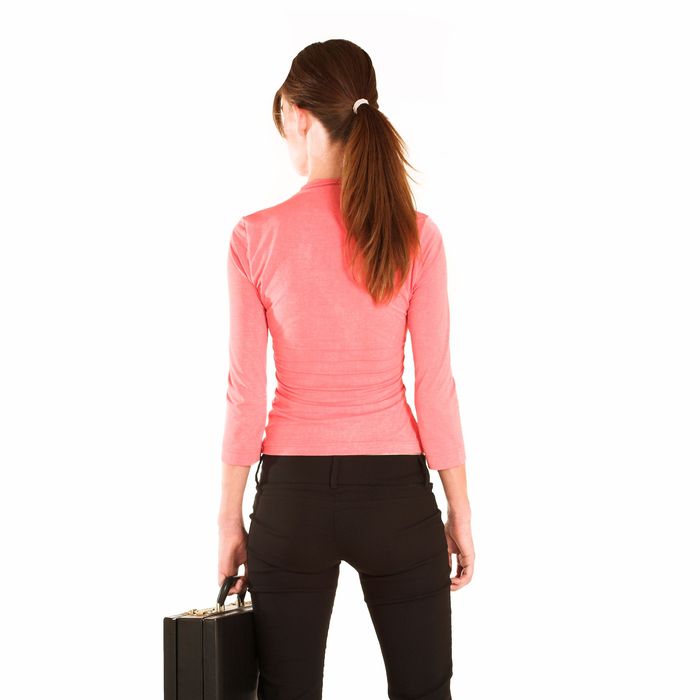 When I was in middle school, I was obsessed with finding the perfect pair of black pants. In 1996, that was a pair of stretchy, flared pants from Limited Too worn with a fuzzy sweater and black Steve Madden knee boots. My belief that black pants were the Ultimate Wardrobe Get was spurred by adolescent trend fever. And, if we're being honest, by my then-college-aged brother's frequent mention of a group of hot girls at Syracuse called the "Black Pants Mafia," who frequented frat parties. Heroines, naturally.
Somewhere along the line, I also internalized the lesson that all women learn: Black pants are slimming, flattering, and universally appropriate. I wore mine with a slutty top to the Friday-night mixer and then later to Sunday school. Even into adult life, I felt like black pants were the ponytails of a wardrobe — an attractive, versatile option that was meant for all women.
Which brings us to a column written this week by Emma Rosenblum of Bloomberg Businessweek, begging ladies to take off the"black, poly-blend slacks" that gap at the waist and pull at the crotch. We should stop wearing these pants "because they are boring and sad, and make you look boring and sad too." Harsh, but she's right. So why do we cling to sad, boring pants when there are better options? (Rosenblum calls out high-end versions of the pant by Stella McCartney and Jil Sander, as well as the more affordable J.Crew Minnie Pant, a cropped, slim cut that defies all crotch, thigh, and ass issues.)
I'd argue designers have yet to give us simpler solutions. Biz-casual emporiums like Express (and Ann Taylor, Banana Republic, the Limited, etc.) have hardly made any movement toward designing a standard, work-appropriate trouser that's under $100 yet makes a woman look like she just dropped luxury prices. "The standard 'woman's trouser' is just depressing. If you work at a company where you can't get away with jeans or a leather legging-pant, it's dark days out there," Fug girl Jessica Morgan said to Businessweek. She touches on an important point: If you can't even get away with dark denim at a company, chances are the environment is so conservative that a slim-fitting pant in a plaid or jazzy red, or a wide-legged pant from Reem Acra or Diane Von Furstenberg might be too bold.
And, obviously, those anti-stylish and, sure, "masculine" black pants are gender neutralizers. When I was grappling at my first serious internship working in a syndication office, and later, during a fellowship at a magazine mostly staffed by guys, I didn't really want pants that made my butt look great. I wanted nobody to realize I had a butt. That's what black pants are really for.