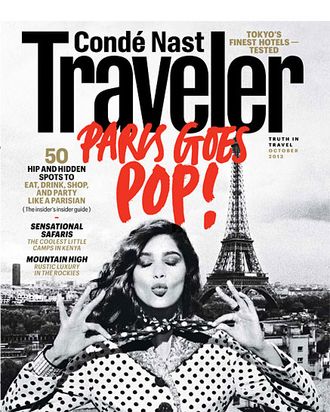 Conde Nast Traveler.
Photo: Conde Nast Traveler
One by one on Wednesday, Condé Nast Traveler laid off fourteen editors, including executive editor Kevin Doyle and the entire photo department. This bloodbath is the most sweeping change to occur at the magazine since it got a new editor-in-chief, Pilar Guzmán, in August. Anna Wintour is considered one of the main forces behind the overhaul; Traveler was one of the first magazines she focused on after assuming her new role as Condé's artistic director last spring (the other, of course, is Lucky; Glamour is supposedly next on the list).
So what will the new Traveler look like? Like Lucky, it'll probably get a glossier, more upscale makeover, with fewer long-form pieces and more "lifestyle," according to WWD. Think more along the lines of where Anna Wintour might go on vacation — and perhaps fewer pictures of Drew Barrymore wearing face paint in Kenya. WWD adds that neither Guzmán nor her new creative director, Yolanda Edwards, have shared their long-term vision for the magazine with their remaining staff, and major changes won't be visible until early next year.