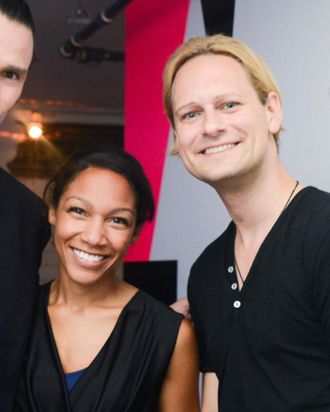 Photo: Carly Otness/BFAnyc.com/BFA NYC
"Make me a sandwich," Stephanie Smith's boyfriend Eric says to her "without fail every morning." And then one day she made him one, and he said, "Honey, you're 300 sandwiches away from an engagement ring." And so the beautiful, successful thirtysomething New York Post reporter began a sandwiches-for-marriage campaign, documenting her work at 300sandwiches.com. She has made 176 sandwiches so far.
Pictured above: Stephanie and Eric Schulte at a Bon Appétit party held the day after she made him a beef brisket sandwich. In the middle of a busy week, she writes, "I dragged my tired bones into the kitchen, clack-clacking in my high heels … At 11 PM, when most people were already in their PJs, I grabbed some barbecue sauce and honey, sliced onions, added some seasoning and got that slow cooker going, careful to not get any sauce or spices on my work dress." Eric liked the sandwich.
Now, before you get all upset about a modern woman living the punch line of a sexist joke, remember that Stephanie still has 124 sandwiches to go. She could still be radicalized, somewhere around sandwich 182. And then when she gets to sandwich 297, she reveals that she has been poisoning him, slowly and steadily, all this time. But now that he has entered this ironclad agreement of nuptial sandwiches, he has no choice but to marry her! After she force-feeds him the final three sandwiches, she inherits his vast fortune of sandwich-making supplies, his palace made of bologna, and its moat of yellow mustard. She will be the Black Widow of Sandwiches, and then you will all regret teasing her.
Stephanie says Eric cooks far more elaborate meals for her. He just likes having a girlfriend who makes sandwiches. "Though I still want to get engaged and get married and live happily ever after," Stephanie writes, "I've also put less pressure on the race to the 300th sandwich and I'm enjoying the cooking experience with Eric." Or so he thinks.