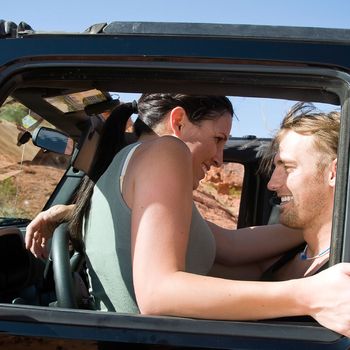 11 percent of people who drive in the United States admitted that they've "participated in a sexual activity while driving." Wouldn't you feel safer if "percent" meant "this is the total number of people"? Well, that's not what that means — so buckle up, guys.
In this non-scientific survey of 1,832 adults living in the U.S., men were three times more likely to confess to fooling around while driving. 17 percent of males said they had engaged in some sexual behavior while in a moving car, while 5 percent of women said the same. 35- to 44-year-olds represented the largest age group for admitting to car-fornication ways. Just being free, fooling around, and singing "Born to be Wild," all the while forgetting that they are dangerous maniacs who were given a license to operate a motor vehicle.
In other salacious auto news, 19 percent of people admitted that they eat with a fork, spoon, or knife while driving a car. 4 percent have read books while driving. Guys! Put it away. For shame.