The year's most conspicuous walks of shame occur the morning after Halloween, when hung-over partiers wake up in strangers' beds, pour themselves back into last night's slutty maid costumes, and march home in the harsh light of day. The Cut asked its most DTF friends for Halloween walk-of-shame stories. The most glorious twelve include a sexy zebra, a sexy nurse, a man dressed as a boob, a pirate wench who discovered an allergy, and a lingerie-clad woman who stumbled into a parade. May their stories caution and inspire you.
1. Marie Antoinette, Bed-Hopper
I was in college and absolutely went for it as Marie Antoinette: white knee-highs with bows, big blonde wig with baubles pinned into it, frilly blue dress. I went home with Guy No. 1, but he was the worst and I just couldn't stay there, so I left at 3 a.m., but on my way out of the dorm, I saw my friends in a different guy's room and joined them. I just wanted someone to walk me home, but ended up, um, waking up the next morning beside Guy No. 2. And my wig was gone.
So I not only had to knock on the door of Guy No. 1 wearing the same getup to retrieve my overpriced wig, but then had to walk ten blocks home in my polyester dress and jeweled heels, wig dangling. It was a Wednesday. 8 a.m. Lots of stares from moms and wide-eyed children and security guards. But maybe I was projecting, because it's New York, and, like, who cares? As for Guy No. 1, he asked where I spent the night, but didn't actually seem to care, either.
2. A Single Boob
My friend and I went as "bosom buddies," two boobs made from a foam mattress topper, flesh-colored sheets, and pink shower caps for nipples. I'm a guy; my friend is a girl. What could be funnier? We were the center of attention, soft to touch, an oversize monument to every Jewish grandma's upper torso. I went home with this boy I've always been into and left my boob suit in his living room.
Awkwardly creeping out the next morning, I searched for what seemed like twenty minutes but couldn't find my shirt. I became frantic. I wanted to get out of there. So, without any recourse, I started my long walk back wearing the breast as my top. I saw a lot of dog walkers and parents taking their kids to school. Thank God my hung-over brain knew not to wear the nipple hat home. One of the boy's roommates found it later between the couch cushions.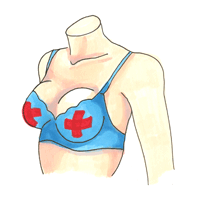 3. The Nurse in My Bed
After blacking out in some spandex contraption from Ricky's, I was hugely relieved to wake up the next morning in my own bed. Then I noticed a blonde wig on my desk (not mine), wads of tissue paper on the floor (not mine either), and an enormous bra (definitely not mine). I steeled myself and examined my bedmate: a male friend who had dressed as a nurse for Halloween. When I tried to kick him out, he panicked. "I can't wear this home!" he said, holding up his miniskirt. I was so mortified on his behalf that I gave him a pair of oversize sweatpants, which he never returned.
4. The Wench, the Ex, and the Allergy
For a Friday Halloween party, I was dressed as a pirate wench in a poufy blouse, too much makeup, thigh-high fishnets, and a garter belt. I was planning on two things: to hook up with my ex and to avoid drinking, because I was two days into a course of antibiotics, plus an anti-nausea medication.
I was almost to the train when I felt funny, so I walked into the campus security office and discovered my tongue was swelling up and out of my mouth. I was escorted first to campus health services, then to Beth Israel hospital, where I spent that night in full wench regalia and a state of anaphylactic shock, surrounded by stabbing victims. After overnight monitoring in the cardiac ICU, I called my ex for help getting home in the morning. I couldn't reach him. I took a cab, carrying my fishnets and garter belt in a plastic bag from the hospital.
5. The Amazing Commuter
I went home with a muscular cowboy I met at a gay party. I thought he said he lived in Chelsea, but in fact he said Jersey. The next day, a Thursday, I had to work. I got up bright and early, braving rush hour on the PATH then the L-train back to Williamsburg. All the while dressed in a Spider-man unitard.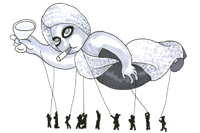 6. Rolled Out of Bed … and Into a Parade
A couple years out of college, with a new and precocious fear of aging, I dressed as Norma Desmond for Halloween: turban, crazy dramatic eye makeup, leopard-print dressing gown, and slip. I wanted to go to lots of parties, and I wanted to get drunk. So despite the impractical costume, I decided to bike.
I ended the night with some artsy grad school friends at a dance party at our state university's student co-op, which is in a converted frat house by the university. Right on frat row.
Cut to me hung-over as shit, with horrifically smeared face paint, rolling off a nasty ass-couch and steeling myself to bike home in high heels and a slip. (The dressing gown, of course, had by then disappeared.) And then imagine my delight when I open the front door and there is a freaking parade in the front yard. Literally. The university's homecoming parade, marching before my eyes, plus hundreds of people were crowded in the street, sidewalks, everywhere. Parents, administrators, and well-dressed wholesome folk with children. It took half an hour of negotiating through the crowd in my "old whore the morning after" getup, unwieldy bike in hand, before I could even start biking home.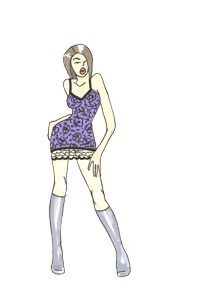 7. Silver Platform Boots Meet the Parents
It was 1997 and I was a sophomore in college. I went as Posh Spice for Halloween. Most people thought my friends and I were dressed as "prostitutes." The walk of shame the next morning was the Saturday of Parents Weekend. The costume was fully intact as I stumbled home in a sheer purple sparkle shirt, black miniskirt, knee-high silver glitter platform boots. Estimated heel height: five to six inches. Did I mention it was a Catholic school? Quite a few horrified looks. But I didn't care if was 7 a.m. or midnight, those boots were amazing. Don't get me wrong, I felt very shamed, but it's hard to feel completely bad when your shoes are a million times better than some morally superior chick's Adidas shower slides.
8. Offensive Costume Meets the Ex-Girlfriend
It was 1997. I was a senior in college. I'd met Matt, an art director in his late twenties, a week earlier. We'd agreed to meet up with mutual friends, making Halloween our first date. I'd been working and had no time to plan a costume, so I grabbed a fake shrub, threw on army pants, and a ripped up T-shirt, and added a Coolie hat a friend had brought back from Japan. I was "Viet Cong." When we met up at a bar in Nolita that no longer exists, Matt was dressed as a Mormon: white button-up, bike helmet, "Brother Matt" name tag. He drank his beer from a milk carton. I told him together we were a totally offensive combo. I was clearly going home to his place.
In the morning, it was drizzling. We were both hung-over. I collected my offensive hat, put on my dirty underwear, and prepared to leave. He walked me out and decided to get coffee. The temperature had dropped at least ten degrees, making my T-shirt unsuitable for the sudden chill. I had no umbrella. Ten steps from his door, we ran into a pretty woman and her friends. He introduced me. It was his ex-girlfriend. She was showered, well-dressed, older than me, and bolstered by her friends. I wanted to die. We parted ways, and I was pretty sure that I would never see him again.
Fifteen years later, we are still together.
9. Carmen San Diego, Purse Thief
One year in the city, I went out as Carmen San Diego. I lost my purse in a drunk haze somewhere on the house party slut trail, then drunkenly found and claimed it later. I woke up the next morning on the Upper East Side next to a man who wore self-tanner as part of his costume, with a clutch that looked nothing like my own buzzing next to my head. I had no personal belongings. No key. No ID. The phone had none of my contacts in it. The good news: The mystery clutch had a twenty dollar bill, so I had cab fare.
My red Carmen coat had disappeared with my purse, but I still had my hat. I braved the early snow in red pants, an oversize men's basketball shirt, and a fedora. On the way home, I drunkenly contacted my purse alter ego's best friend to return the stolen (I guess I stole it?) clutch. Another cab ride and two pukes later, I was handing the clutch back to its owner in the middle of Grand Central Station, which turns out to be the WORST place to meet a stranger while fighting back whiskey/tequila/vodka vomit. For some reason, I had traded my shoes for flip-flops. I was doing circular breathing exercises when I handed over the clutch to that poor girl.
The money, you ask. Yes, I returned it, but two tens instead of the original twenty. I almost hope she noticed.
10. 'I Was Holding My Bra'
For our college's annual Halloween party/dance, my freshman roommates and I googled "last-minute Halloween costume ideas" and came across the "Z-Bra." The Z-Bra costume has you attach white cutout Z's to a black bra and wear it over a black-and-white-striped outfit. A sexy zebra. A Z-Bra.
After pounding shots from a $10 handle of Crystal Palace and booty-dropping in a dark, crowded room, I went home with a guy from the soccer team. Soccer Guy and Z-Bra. I left at 9 a.m., wearing striped shorts in 40-degree weather and carrying a lacy black bra in my hand. On a path by the dining hall, I walked suddenly and directly in front of a campus tour of a dozen students and their parents. I locked eyes with a mom. I had eyeliner smeared across my face. I WAS HOLDING MY BRA. There was only the slightest pause in the guide's banter as I trudged past, but I felt them acknowledge me, together: a walk-of-shame warning for their children's futures.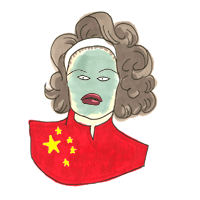 11. The Best Eyebrows in Chinatown
My roommate was Frida Kahlo with a unibrow and peasant dress, and I was Joan Crawford from Mommie Dearest: green face mask, scary drawn-on eyebrows, wire hangers dangling from my neck. We weren't exactly "hot," but went with two guys to their Chinatown apartment, where we coupled off. The next morning we emerged, still drunk and fully dressed in our respective costumes, eyebrows and all, into the bright light and fishy smells of Chinatown. With no sunglasses to shield our eyes or coats to hide our costumes, we hobbled past street vendors setting up for the morning, trying not to throw up on the barrels of dried squid and fish heads, and giggling maniacally.
12. Someone Yelled 'Walk of Shame!'
I was dressed as eighties performance artist Klaus Nomi, in a black spandex body suit with a homemade paper collar. (It was a huge hit with those who know what Danceteria is, but a big "Huh?" to everyone else.) Since I had no pockets, I tucked my phone, cash, I.D., and house key into my jumpsuit under the Nomi collar. At 2 a.m., with my phone was starting to die, I realized that I'd lost my house key. I texted my roommate, who said he'd call at the end of the night. At 5 a.m., with no call from my roommate and my phone officially dead, I left the club.
It was raining and the water ruined my paper collar, so I ditched it in a green trash can. Now I'm just a shivering queen in spandex and runny makeup. I get to my front door and press the buzzer repeatedly. My roommate either got lucky or is passed out on our toilet bowl. I'm screwed. But then I have a brilliant idea: With an I.D. and about $30, I can go to the bathhouse and get a place to sleep for the next eight hours.
At 6 a.m., I arrive at the West Side Club to a line of gays in costumes out the door. There is a chunky shirtless guy with his body painted blue — Papa Smurf? There are jocks and gladiators and "sexy" everything. (They're worse than sorority girls.) After half an hour, I get a "room," get out of my soggy spandex, shower, and do what you do in a bathhouse. (When in Rome, do as the slutty gladiators do.) Then I pass out on a thin mattress that smells like stale poppers, with bad house music muffling the groans of people down the hall.
I wake up with no idea what time it is (phone still dead) but generally relieved. Finally, I think, I can go home and go to bed. I contemplate leaving my spandex suit there and wearing the towel home, but decency won't allow it. I pay $30 for my room, hop into a cab, and head home in my spandex, thinking the nightmare is over. I tell the cabbie to pull directly in front of my door. I run out, ring the bell, and my roommate buzzes me in. Just as I'm opening the door, someone across the street and down the block screams, "WALK OF SHAME!" Yeah, thanks, asshole. I know.
Illustrations by the blake wright.