Everything You Need to Know About the Royal Christening
Photo: John Stillwell/AFP/Getty Images
This afternoon, Prince George was doused with water from the River Jordan and dunked in the Lily Font (a birdbath-shaped receptacle decorated with gilded flowers, not to be confused with a type of lettering) at the Chapel Royal at St. James's Palace. Kate and Will invited only 22 guests to their son's christening, including his seven godparents, who were named this morning. They include the following people:
Zara Tindall, William's cousin
Emilia Jardine-Paterson, a Marlborough College classmate of Kate's
William van Cutsem, a childhood friend of William's
Oliver Baker, a St. Andrews University classmate of the couple's
Jamie Lowther-Pinkerton, the couple's private secretary (aw!)
Hugh Grosvenor, the Duke of Westminster's son  
Julia Samuel, an old friend of Princess Diana's
These choices mark another break in tradition for the couple; in the past, the title of royal godparent has been bestowed upon foreign dignitaries as a diplomatic gesture of sorts. The palace calls today's ceremony "informal" and "intimate," lasting only 45 minutes. It is followed by a private tea in Clarence House, hosted by Prince Charles and Duchess Camilla, where guests will choke down slices of two-and-a-half-year-old "christening cake," which is actually a tier taken from Kate and Will's wedding cake. As previously reported, Prince George is wearing a christening robe made by the Queen's couturier, Angela Kelly.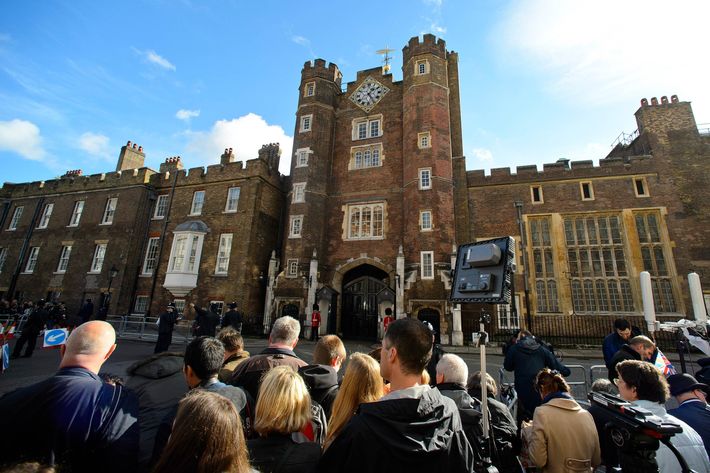 In addition to all the godparents and their spouses, today's attendees include Kate's immediate family (mom Carole, dad Michael, sister Pippa, and brother James), the Queen and Prince Philip, Prince Charles and Duchess Camilla, and Prince Harry (whose girlfriend, Cressida Bonas, was not invited).
Here's the first photo of the royal family after the ceremony.
Update 1: There are more details on the service itself, from the official Clarence House website.
The Duke and Duchess of Cambridge have chosen two hymns, two lessons and two anthems for the christening of their son, Prince George.

The Hymns are Breathe on Me, Breath of God and Be Thou My Vision.

The lessons are from St. Luke ch. 18, verses 15-17, read by Miss Pippa Middleton and St. John ch. 15, verses 1-5, read by Prince Harry.

The anthems are Blessed Jesu! Here we Stand (Richard Popplewell) and The Lord Bless You and Keep You (John Rutter).

Blessed Jesu! Here we Stand was written for Prince William's baptism on 4th August 1982.

The anthems will be performed by The Choir of Her Majesty's Chapel Royal.

The Processional Organ Music will be J. S. Bach's Fantasia in G (BWV 572).

The Recessional Organ Music will be C. M. Widor's Toccata from Symphony No 5.

The Archbishop of Canterbury, the Most Reverend Justin Welby, will baptise Prince George. He will be supported by The Dean of The Chapel Royal (The Right Reverend and Right Honourable Richard Chartres) and The Sub-Dean of the Chapel Royal (The Reverend Prebendary William Scott).
Upon arriving with baby George at Clarence House after the ceremony, Prince William reportedly made his favorite dad joke: "This is the first time he's been quiet all day."
Update 2: Kate's dress is custom made by Sarah Burton for Alexander McQueen (who also designed her wedding gown). Pippa wore a matching cream hat and A-line coatdress that, we're sad to report, did not show off her bottom in any way. On a positive note, it's nice to see that James's beard is still flourishing.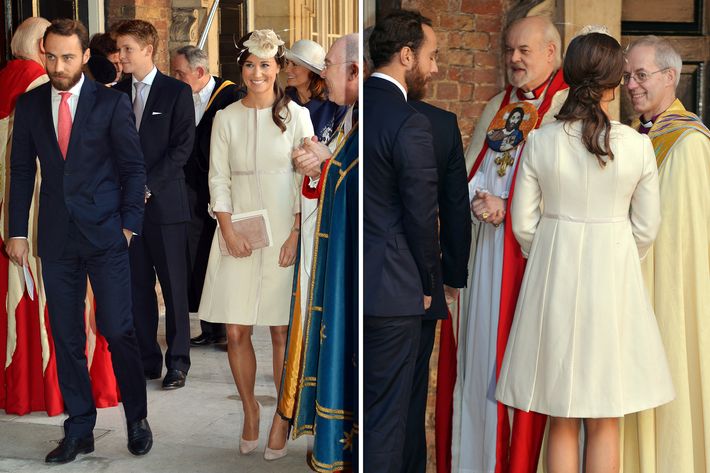 We'll keep you posted on developments (Kate's hat!) as they break.