A recent survey found that six out of ten teenagers aged 12 to 15 have engaged in some form of sexting. So much so that the idea of sexting is considered boring, according to the BBC. Which means the frequency of adolescents soliciting/sending/receiving dick pics has reached a truly intense level.
In an attempt to help the few teenagers out there who want to abstain from sending genital shots and the like, British nonprofit ChildLine has created the first anti-sexting app, Zipit.
So now, if someone says, "Hey, how about a photo?" or "Show me yours, and I'll show you mine," or whatever the kids say these days, Zipit suggests a gentle, yet still flirty, shutdown meme to send in lieu of a racy response. Examples include: a photo of some garbage with the words "here's a picture of my junk," or a stern old lady saying, "Enough of your lip."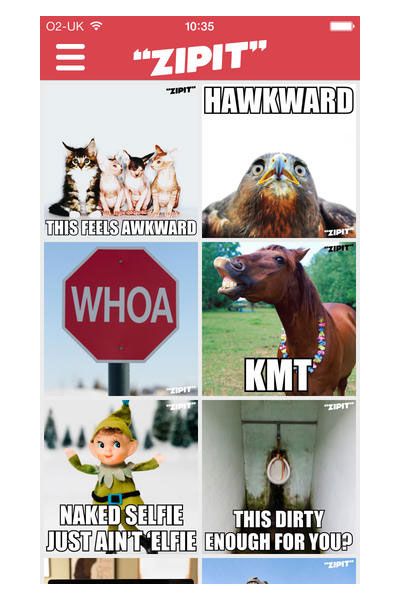 "Zipit helps you get flirty chat back on the right tack. It's packed with killer comebacks and top tips to help you stay in control of your chat game," explains the organization. (Even though they might be unclear on the definition of "killer comeback.") Today's sophisticated teen needs a sext hex that is both edgy enough that adults could use it to ward off Anthony Weiner or Tinder exchanges gone pervy but also witty enough that they won't get bullied the next day. Sending the meme equivalent of a Bible verse isn't going to cut it.
Actually, these innocent, out-of-touch responses are more suitable for the latest sexting demographic to emerge: the 24 percent of Baby Boomers who sext on the reg.