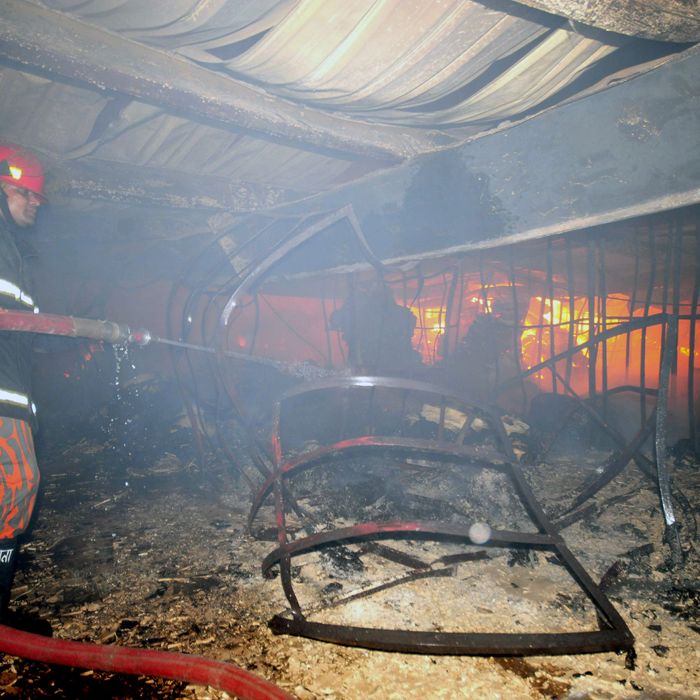 Fire in Bangladesh.
Photo: STRDEL/AFP/Getty Images
Despite all that fuss over the Alliance for Bangladesh Worker Safety, which was signed in July by seventeen major American companies including Gap, Walmart, and Target, factories in Bangladesh remain very dangerous. On Tuesday, at least 9 people died and about 50 were injured in a fire at Aswad Composite Mills, BBC News reports. Although the factory has worked with several known brands in the past, it is unclear what was being produced at the time of the fire, which began in the knitwear section of the building.
Aswad Composite Mills has been linked to the George brand owned by the Asda unit of Wal-Mart Stores Inc.; Loblaws of Canada, and Hudson's Bay Co., according to the Clean Clothes Campaign. Factory managers told WWD that other retailers that have sourced from the company include H&M and Primark. However, they were not clear about the date of the orders or the shipments, which may not have been under immediate production.
Loblaws denies any involvement in the incident, stating that they had "not placed any product orders from the Aswad Composite Mills Ltd. Co., where the fire took place." Investigations are ongoing.