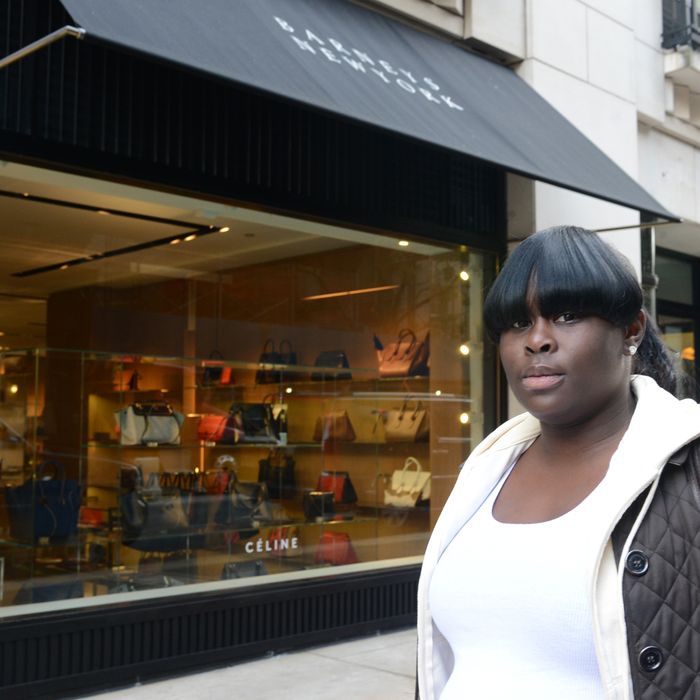 One of the two plaintiffs in the Barneys racial profiling case.
Photo: New York Daily News/2013/Daily News L.P. (New York)
Barneys is scrambling to control the fallout of two separate customers' recent allegations of racial profiling. This morning, the Post stated that the retailer is enlisting a "civil rights expert" to examine the situation; this afternoon, WWD clarified what that means — they're calling in Reverend Al Sharpton himself! Next week, Barneys CEO Mark Lee will meet with Sharpton and Kirsten John Foy, president of the Brooklyn chapter of the National Action Network (NAN), to discuss the incidents and how the retailer can make amends. Meanwhile, NAN is threatening to picket the store if the alleged "pattern of racial profiling is not immediately rectified," which would put a real damper on holiday sales — not to mention the retailer's upcoming collaboration with Jay Z, which is also under fire.
And, in case you wanted Tyson Beckford's opinion on the matter, he weighed in, too, because why not? "I might have the most recognizable face in the world. I still get followed all the time, any time I go to a store," he told Pix11 outside Barneys today. "I just went in now to go to a casting and security is looking at me. It's sad." (Not to detract from the problem, but maybe people were looking at him and following him because he's FAMOUS?)
Anyway, it's in everyone's best interest to reach a productive resolution here. But considering all the "I've been racially profiled, too" discussion it's generating, isn't it surprising that no other stores have been accused yet? Unfortunate as it is, Barneys certainly isn't the only swanky Upper East Side store where this happens. This may — and probably should — become part of a much bigger story.