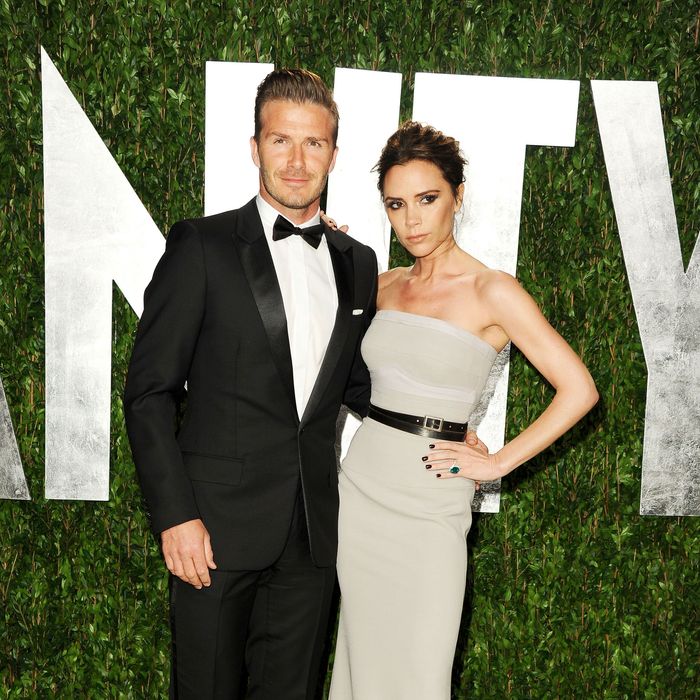 David and Victoria.
Photo: Pascal Le Segretain/2012 Getty Images
A new autobiography by Sir Alex Ferguson, former manager of soccer ("football") team Manchester United, states that David Beckham would have been a better athlete if he hadn't fallen for his wife, Victoria. From the book:
David was the only player I managed who chose to be famous, who made it his mission to be known outside the game.

He lost the chance to become an absolute top-dog player. He wanted to give it all up for a new career, a new lifestyle, for stardom.
At a book launch yesterday, Ferguson expounded further to the Express: "The big problem for me … he fell in love with Victoria. And that changed everything." He blames Victoria for encouraging Beckham to move to L.A., where he played for the Galaxy team. "There was no footballing reason for him to go to America," he says. "He was giving up top-level football. You should never surrender what you're good at." 
But what if you surrender it for … something else that you're also good at? So he chose family, fame, and fashion over sports — perhaps that was a much smarter long-term decision. Now his soccer career is over, but he still has a major contract with H&M, a successful fragrance line, and a happy family with a wife who has a lucrative job of her own. Listening to his wife instead of Ferguson was probably the best thing Beckham ever did.