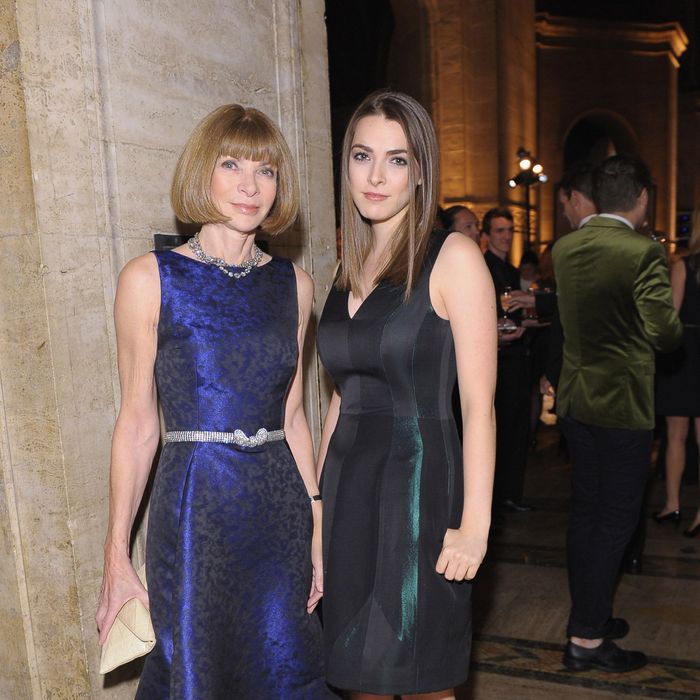 Anna Wintour and Bee Shaffer.
Photo: Michael Loccisano/2012 Getty Images
Anna Wintour's daughter, 26-year-old Bee Shaffer, is moving back to New York for a new job as a segment producer for Seth Meyers, who's taking over NBC's Late Night next year. Shaffer grew up and went to college in Manhattan (Columbia), but then moved to L.A. two years ago to work for Glee producer Ryan Murphy. In R.J. Cutler's 2009 Vogue documentary, The September Issue, she stated that she hoped to become a lawyer, but everyone says that when they're an undergrad, so let's not hold it against her.
The Post reports that Shaffer got a "low-key" (i.e., glamorous) send-off at the Chateau Marmont, but on to the bigger questions: Where will she live? (Brooklyn, like every other 26-year-old, or the West Village, like her mom?) Who will she hang out with? How much did her mom help her land this job? (Meyers is tight with Wintour and the Vogue crowd — he even hosted the CFDA Awards last year.) In any case, there can never be too many glamorous, hardworking twentysomethings in this town, so welcome back, Bee.