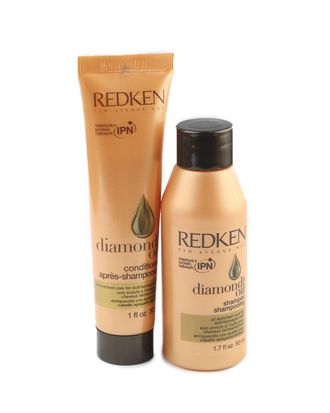 In the beauty world, I think we've reached oil saturation. Yet, here is one shampoo that makes you remember why it was popular in the first place.
I mistakenly brought this shampoo-conditioner combo on a vacation with friends. I say mistakenly because I left it in the shower, and noticed that a succession of my friends left with softer, bouncier hair. Although the shampoo boasts of diamonds, bragging rights are limited to the actual look of your hair, actual diamonds are not in the product. The title refers to the high-shine, glossy finish imparted by the line, owing to a mix of camelina, coriander, apricot, olive, jojoba, and coconut oils. The shampoo offers a softness that isn't fluffy or limp, and gives bouncy, piece-y movement to your hair. Your hair looks energized and more alive. I use a three-to-one ratio of conditioner to shampoo because a little more conditioner in the ends never hurt anybody (provided you wash it all out) and because the shampoo smells unbelievably good. I creepily sniff my hair all day after using it, it smells that good.
Redken Diamond Oil Shampoo-Conditioner, $14 at Amazon.