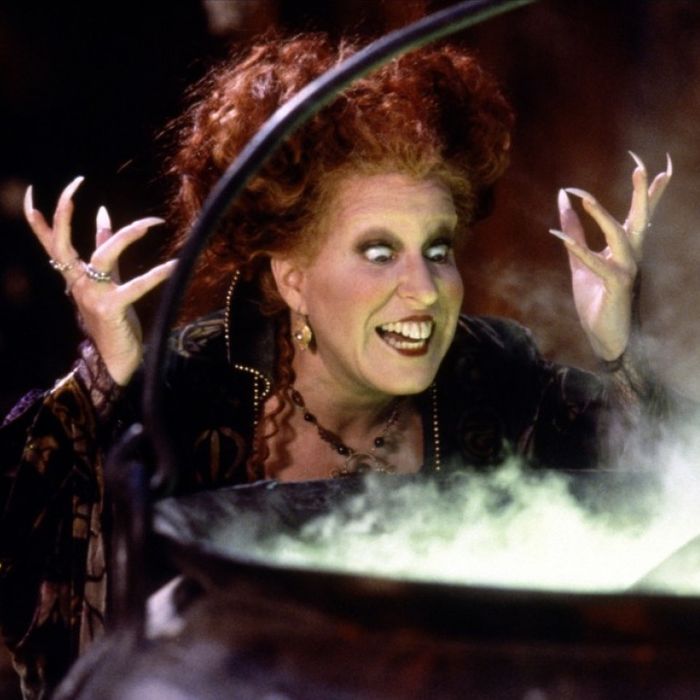 Photo: Walt Disney Pictures
It is such a buzzkill when you discover how much the stars of your favorite childhood movies despise the roles that made them. Like Robert Pattinson and Twilight. How can you hate something I love so much, jaded celebrity?
Don't worry, the one and only Halloween movie you need to watch, Hocus Pocus, remains safe from the wrath of confused former child stars. On Katie, Katie Couric's talk show, Bette Midler (a.k.a. Winifred Sanderson) revealed that the only person who is a bigger fan of the 20-year-old cult classic is actually Bette Midler herself. 
"Oh, I love it. I love it," Midler said. "We made it before the tidal wave of Halloween happened. Now it's like huge. It's huge. Kids, grown-ups, everyone takes part in it. We laughed the whole time," she gushes. "And we flew! We flew! And we got to wear like crazy noses and fake teeth and all those sorts of things."
Yes, Bette! I cede my fan club presidency to you. Open invitation to hang out, light some black flame candles, find a few virgins, and treat them to an Allison and Bette performance of "I Put a Spell on You."