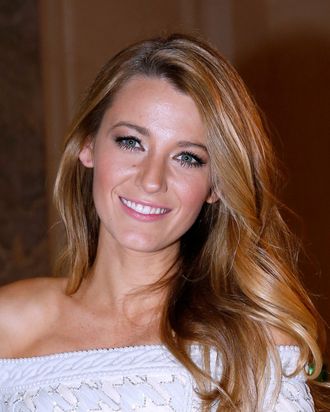 Photo: Bertrand Rindoff Petroff/Getty Images
We know that Blake Lively has grand plans of starting her own lifestyle brand in the manner of Gwyneth Paltrow. But before she does that, she will take the well-trodden path of many a diversified actress before her, in her starring role as the face of L'Oréal Paris.
As reported by Vogue U.K., Lively will be the new global spokesperson for L'Oréal Paris. The news broke earlier last night on L'Oréal's French-language Instagram. As to why Blake was chosen? Well, because she is pretty, right? Yes. Her "gorgeous, gold-dipped hair," "luminous gaze," and "drop-dead smile," were probably factors, and some of the adjective-laden reasons why Lively was worth it.
She also shares with Vogue Paris her three favorite L'Oréal products: a moisturizer with a Photoshop effect (Sublimist Perfect Skin Corrective Moisturizer), a BB Cream (BB Crème Solaire SPF 30 – "I never, ever go below SPF 30"), and a lipstick (Color Riche Extraordinaire lip color out in 2014). As we sit here reading this post, she also shares that she's most likely eating some chocolate.
I don't really need a personal trainer, or watch what I eat. I can't start the day without a hot chocolate, or finish it without a few squares of dark chocolate. Its good for my mood!
So her lifestyle brand will include chocolate, but not personal training tips. Her empire will not be built on butt-lifts alone. It sounds different than GOOP already.