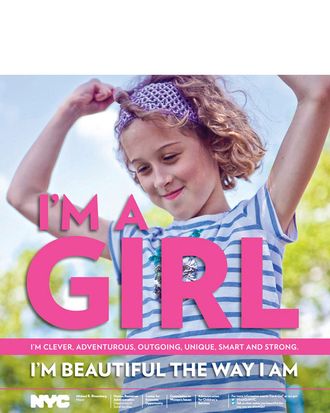 Photo: Dennis Ahlgrim and Richard Brathwraite/Nyc.gov
Low self-esteem is the new soda: Mayor Bloomberg's office is going to convince New Yorkers not to have it. Or, at least, convince girls ages 7 to 12 not to have it — they're the targets of a new public-health drive called NYC Girls Project. The $330,000 undertaking is the first female-body-image campaign to be carried out by a major city, the New York Times reports.
Ads went up on buses and in subways yesterday, with physical-fitness classes and self-esteem-boosting after-school programs to follow. It's the brainchild of Bloomberg's deputy press secretary Samantha Levine, who was inspired in part by Dear Sugar advice columnist Cheryl Strayed's claim that "a failure of feminism was that women still worried about what their buttocks looked like in jeans." (Actually, Strayed said "asses.") Citing evidence that an overwhelming majority of 10-year-old girls are afraid of being fat, the campaign hopes to minimize the "risk of negative body images that can lead to eating disorders, drinking, acting out sexually, suicide and bullying" — not to mention fellow Bloomberg bêtes noires smoking and teen pregnancy. Rather than regulate the unattainable portrayals of female beauty in popular media (and, say, ban Photoshop), Bloomberg's office will combat them with the "I'm a Girl," counter-campaign (hashtag: #ImAGirl), starring 21 adorable, nonprofessional models, including the daughters of city workers. The girls list their positive attributes ("caring," "curious," "a leader," "creative," "adventurous") before ending with the slogan, "I'm beautiful the way I am."
There's something slightly contradictory about the NYC Girls Project message — "Don't worry about how you look. You look beautiful!" — but at least it's less obviously demoralizing than the city's other PSAs.