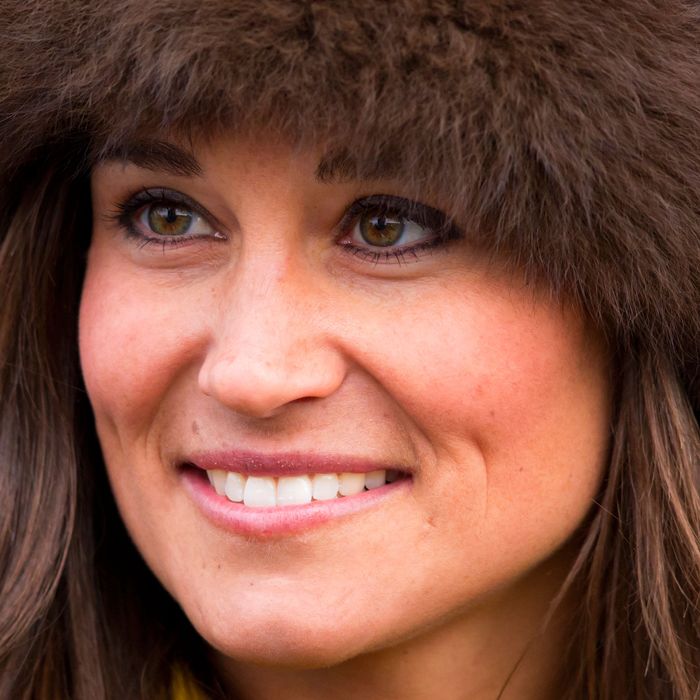 Photo: Indigo/2013 Indigo
For her latest column in the Telegraph, Pippa Middleton documented her trip to the Austrian Alps, which involved hiking, beer drinking, and this outfit, which merits a flowery, alliterative description:
It was only after I'd finished my kaiserschmarrn (pieces of light caramelised pancake filled with raisins and served with fruit compote) that I remembered what I'd be wearing that evening: a dashing dirndl with a bust-boosting blouse and a pinny to give an approachable, girl-next-door look that Austrians like.
You can also read all about her hiking, eating, and alcohol-consuming activities, but let's talk more about her ensemble (we're unable to post the pictures for copyright reasons, but you can see them here). As dirndls go, it's very by-the-book, and does a good job toeing the line between sexy in a "cute" way and sexy in an "I stood in line for an hour at Ricky's to buy this for Slut-O-Ween" way. It's low-cut, but there's no cleavage, nor is there much frilly embellishment. It's a traditional red, with a single white ruffle at the neckline, and while the bodice is very fitted, it does not feature a breast-propping corset or bustier. As for the plain floral skirt — she could probably even re-wear it for a teatime event or something next spring.
As Oktoberfest costumes go, Pippa's is on-theme but tasteful. Not all celebrities have demonstrated such restraint. Click through to see various famous people in dirndls, and may your steins runneth over this weekend.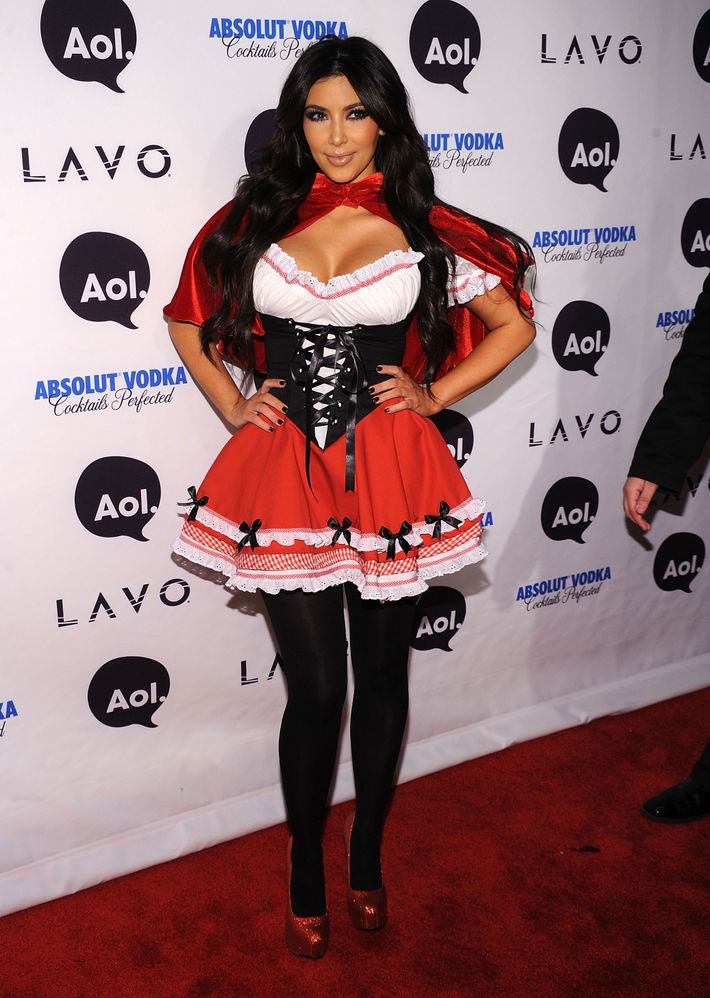 Kim Kardashian
For Heidi Klum's 2010 Halloween party at Lavo, Kim wore the archetypal "saucy barmaid" dirndl, a popular choice for sorority theme parties.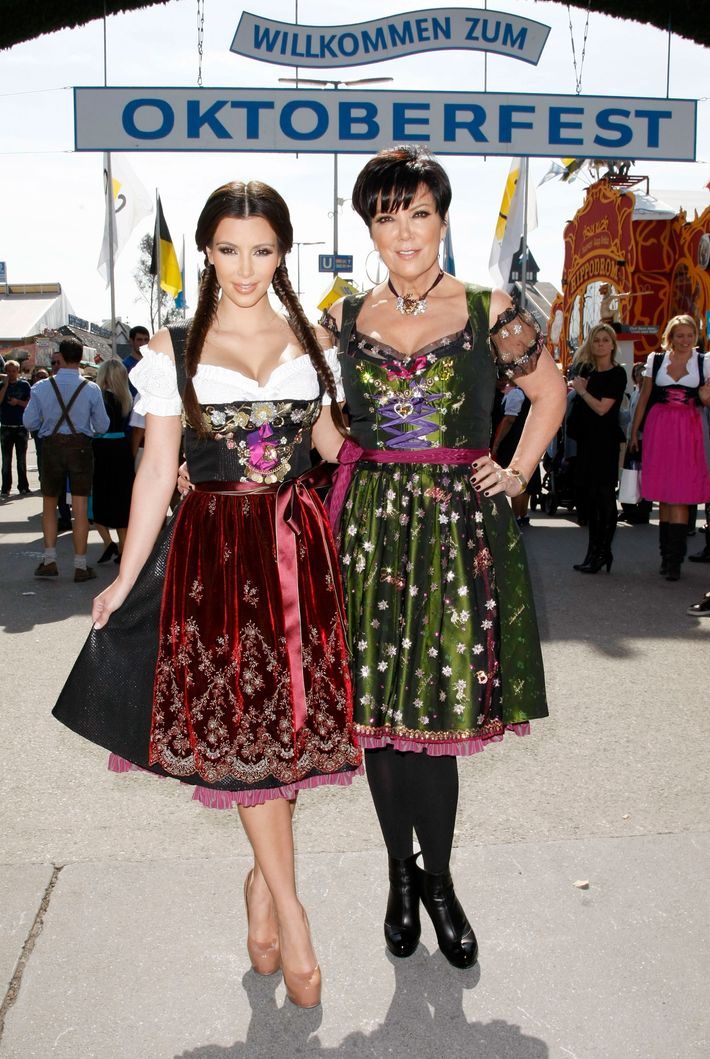 Kim Kardashian and Kris Jenner
She toned it down a few years later while visiting Munich with her mom.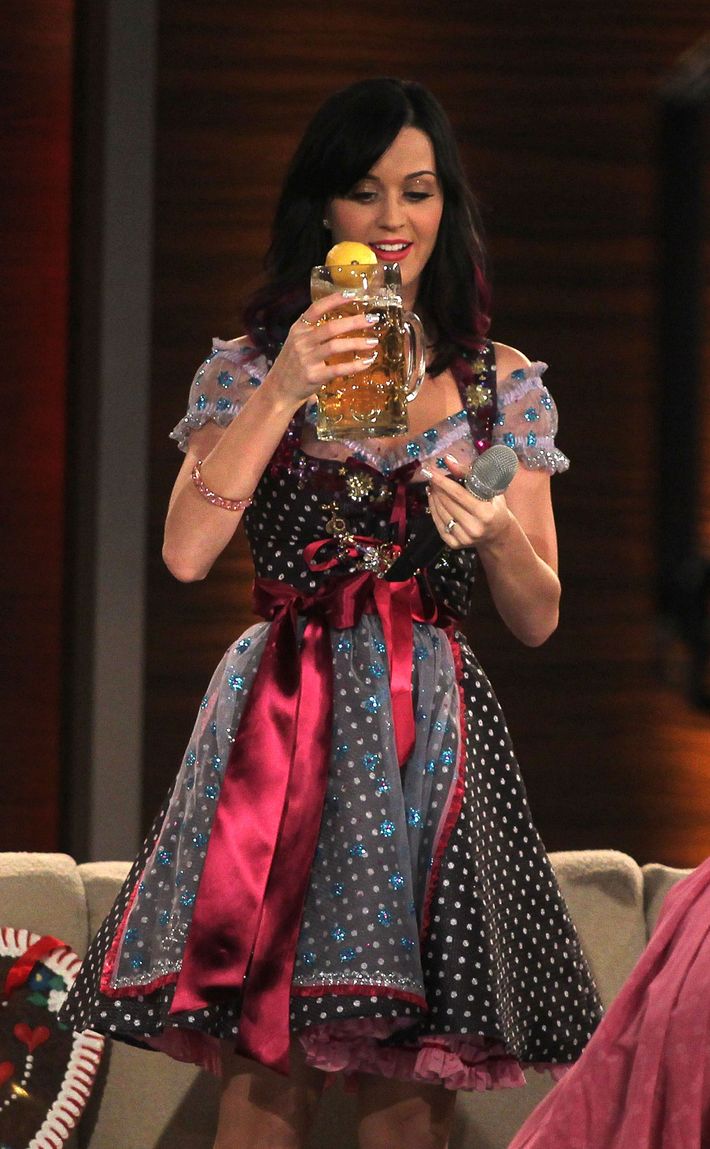 Katy Perry
A more creative take on the classic dirndl.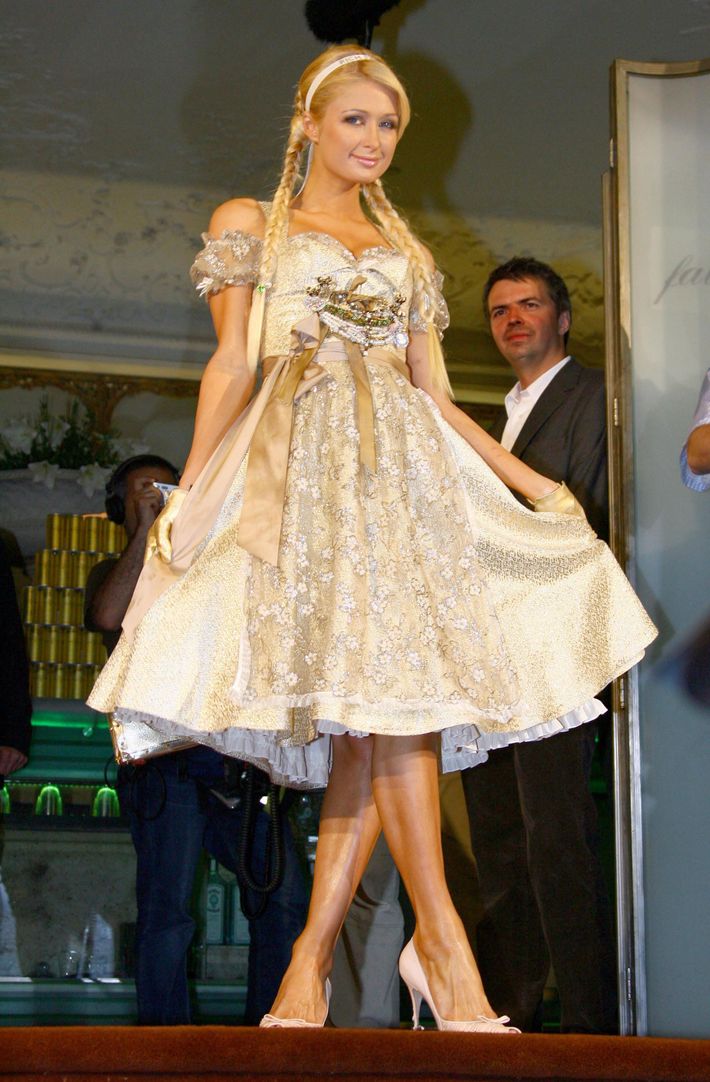 Paris Hilton
A fairy-princess dirndl.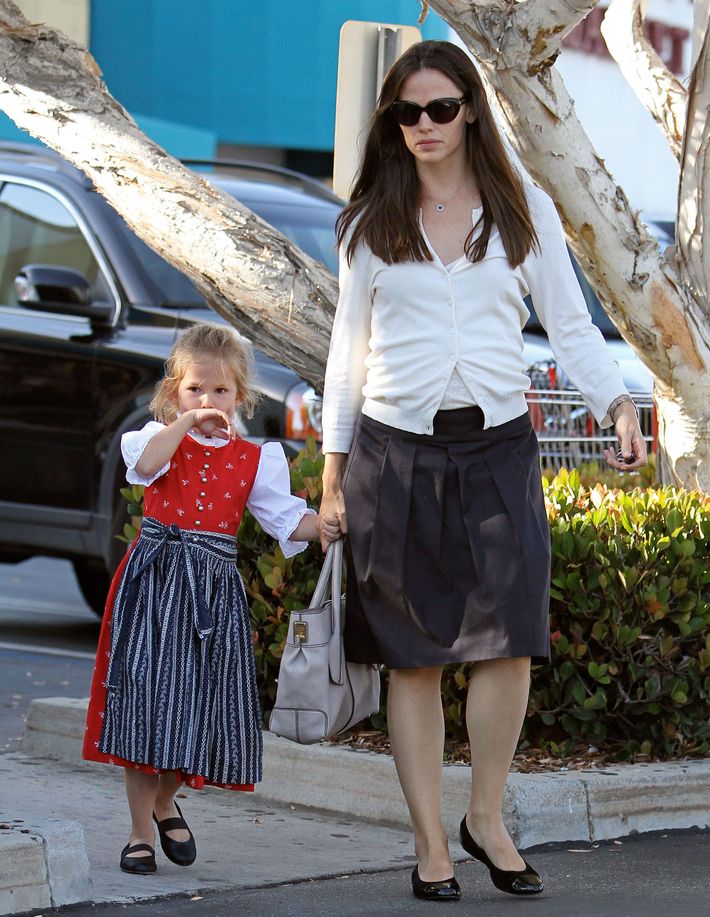 Violet Affleck
A baby dirndl.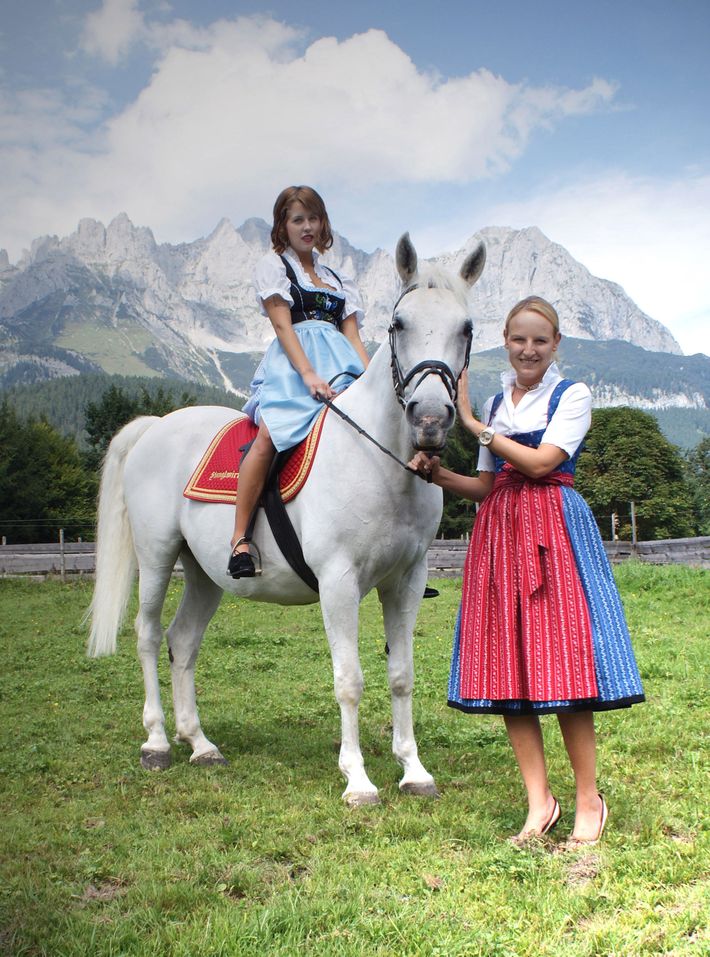 Peaches Geldof
For some reason, Austria's Stanglwirt Hotel paid Geldof to fly out for a series of promotional photos like this one. The woman holding the horse is named Maria.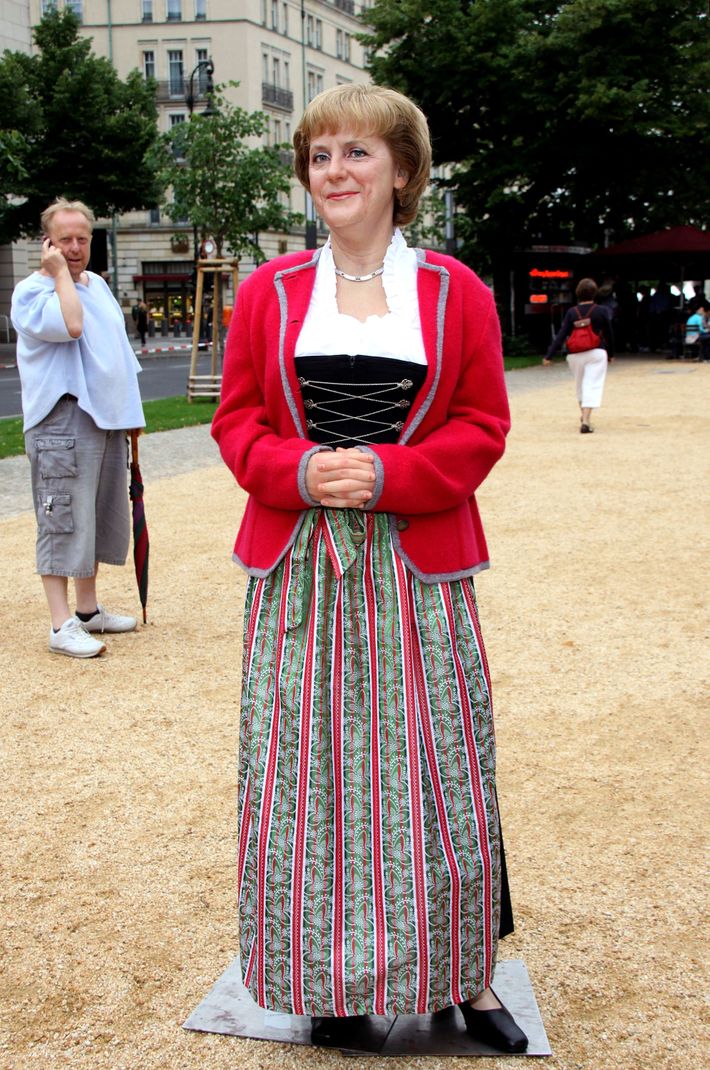 A wax statue of Angela Merkel
This was made to commemorate Merkel's holiday trip to the Austrian Alps. Sadly, no pictures of the real thing have been released to the public.