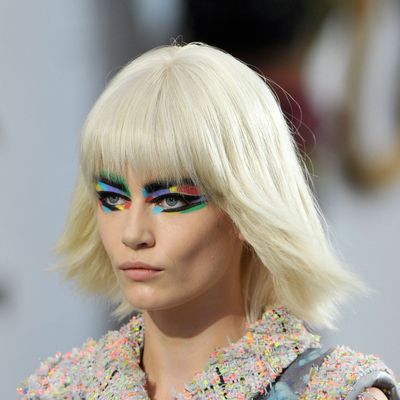 Photo: Armando Grillo/Imaxtree
Some designers, when creating a set that includes Chanel Robot No. 5, a naked mannequin wearing only "Risky Business" socks, and a fancy Chanel hopscotch board, would think, "Hmmm, maybe just minimal makeup for today's show." Isabel Marant and Olivier Rousteing (of Balmain) both went with bare-faced makeup in Paris this season, and they didn't even have robots. Karl Lagerfeld is not that designer.
To accompany Lagerfeld's OOC, art-gallery-themed set at the Grand Palais, makeup artist Peter Phillips created hand-painted, pigment-splattered eyes in at least five different colors (yellow, teal, jungle-green, purple, red) to offer a wide-eyed look that could be dubbed "anime eyes." Or Monet eyes, with all those tiny, artfully combined, Impressionist dabs of color. There were three strong black lines that contributed to the cartoonish look, which were drawn graphically as if in an illustrator's hand along the brow and exaggeratedly along the top and bottom lashline. To allow space for all that painting, the lashlines were left unconnected and open at the sides.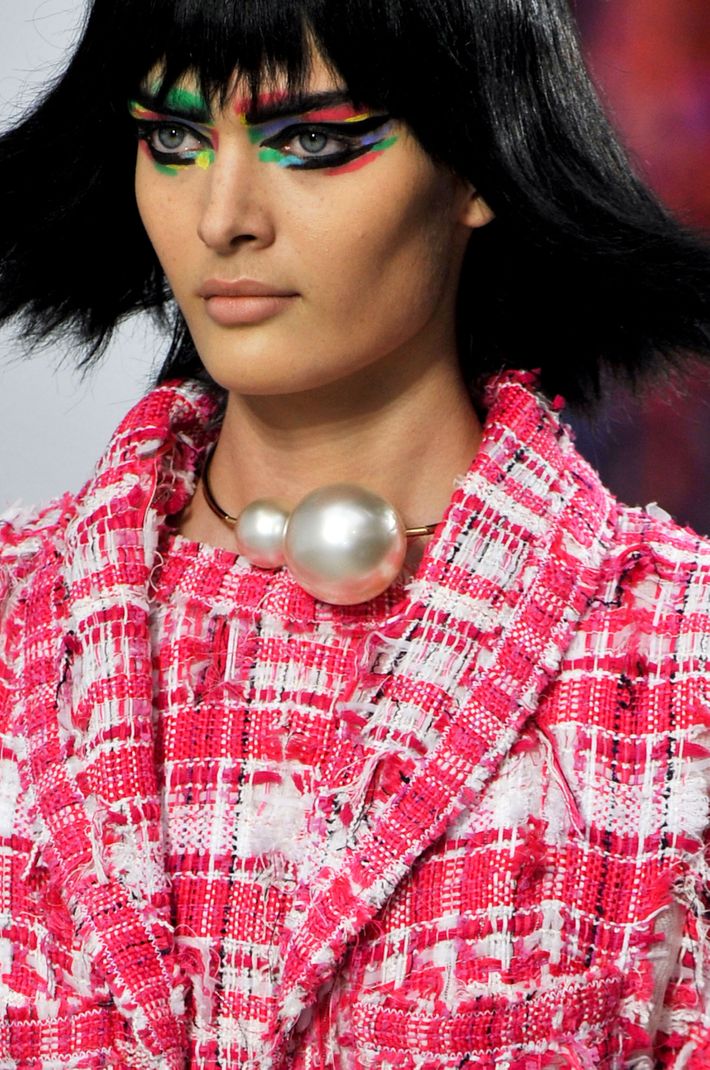 When it came to the hair, Sam McKnight gave the girls banged, short bobs with flippy, blunt-cut ends that looked like a grown-out version of the castaway surfer bobs seen earlier this month at Marc Jacobs. (Does this mean that bangs might be back in for spring? Please, no.)
Mysteriously, no information about the nail look at this morning's show has surfaced yet, which is unusual since Chanel is usually an arbiter of polish trends (recall: the black-satin craze of 2006). Maybe this means nail art is truly done? Probably not: We'll update when information on the varnishes comes in.