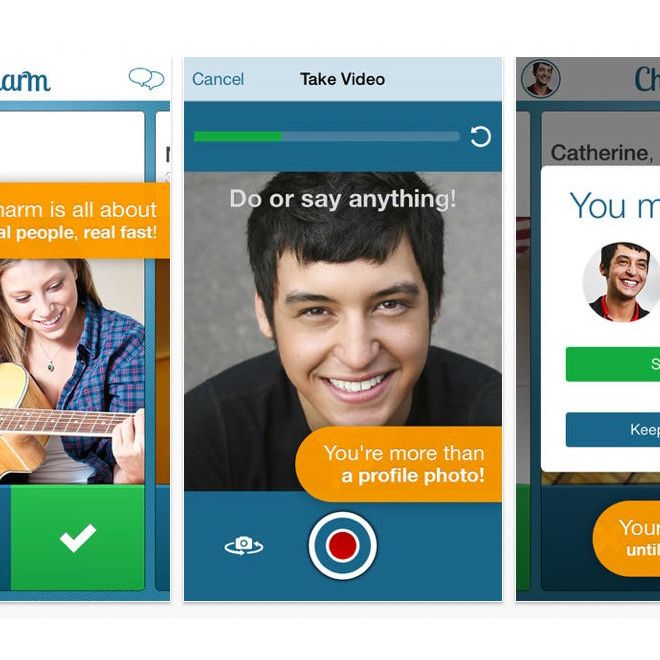 When will we learn that good things shouldn't be tinkered with? Just as we were all settling on the consensus that Tinder is, albeit unexpectedly, the dating app we've been waiting for, some tech bros have come along to improve it — by replacing photos of potential dates with videos.
TechCrunch reports that Charm, a new dating app that's like the love child of Tinder and Vine, is launching today. Geoff Cook, the co-founder of MeetMe, the social network behind the new app, notes that a problem with traditional photo-based dating services is that photos — even those that come from Facebook — are often outdated and misleading. A video, on the other hand, is not only a more accurate representation of a potential suitor's attractiveness, but a chance to show off personality and creativity — you know, the real you. Charm works much like Tinder, but users upload short video clips instead of pictures. Prospective dates can scan through the videos and decide who they're interested in, but are only able to chat with users who have expressed reciprocal interest.
While the app's tagline — "Because you are so much more than a profile pic" — is sort of heartwarming, it seems like Charm's developers have overlooked the very factors that made Tinder a success in the first place. A large part of Tinder's appeal is that it's casual and not too personal: As Ann Friedman recently noted, users like the non-profile, which "circumvents the panic that comes with signing up for most dating sites and carefully answering dozens of questions designed to convey who you are and what you're looking for in a life partner." It's hard to think of anything less casual than creating a self-promotional video clip designed to show off your most dateable attributes.