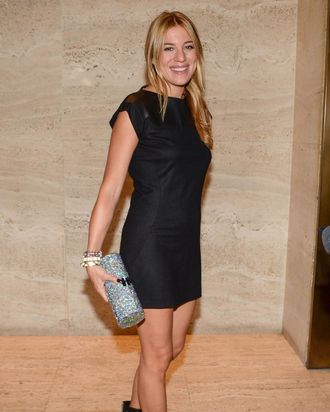 Photo: Joe Schildhorn /BFAnyc.com/BFA NYC
This week, Nylon editor-at-large and jewelry designer Dani Stahl added a new job to the lineup: She's now the creative director of Keaton Row, a website that bills itself as "the future of personal styling." Started by Harvard Business School graduates Elenor Mak and Cheryl Han, the site functions like an online dating service for women seeking wardrobe advice, who get matched with prescreened "stylists" — many of whom lead separate lives as designers, fashion students, publicists, and so forth — based on a questionnaire and photos.
Initially, Stahl will help cultivate the website's coterie of stylists, who currently numbers in the thousands. "The part that really drew me in was the platform for people to become stylists," Stahl told the Cut over the phone on Monday. "I want to help empower people who have certain credentials but don't necessarily have access to the fashion world, or live in New York City, or have red-carpet clients." She plans to help counsel these budding professionals through videos and eventually, perhaps, in-person training sessions.
Keaton Row's entrepreneurial business model also appeals to Stahl: Stylists can each take on as many clients as they want. They get a commission from anything that their clients buy from the site's three retail partners — Shopbop, Nordstrom, and Les Nouvelles — so there's incentive for them to please customers. "They can really build their client base," says Stahl, "but it's up to them how they want to promote themselves, or how much they want to be involved."
We caught up with Stahl to talk about her new role, as well as the business of personal styling.
What exactly will this job entail for you?
I'm not totally sure yet, because I'm starting this week! Elenor and Cheryl originally approached me to be one of their "elite" stylists, but once I found out more about the site, I realized I wanted to work with them in a larger capacity. I want to see all the products they're working with, add my touch to it. We'll continue to evolve the site and make it more fashion-y. I want to inject more cool into it.
What's first up on your to-do list?
On Wednesday, I'm going to start filming this introductory video — sort of a how-to, with tips. A lot of people [on the site] are not in the industry. They're not stylists at Nylon, and they're not going to fashion shows. So I want to create a dialogue with them, and create a platform where they can ask me a bunch of questions. I want to help the stylists better their knowledge, which ultimately translates to happy customers. Anyone can have an Instagram and a blog or whatnot, but this site will offer professional opinions. 
What's it like to work with Cheryl and Elenor? 
I immediately liked them — it was one of those gut feelings. They're super smart. They're not really fashion girls — I mean, they're very chic and fashionable, but they don't come from a fashion background. They're businesspeople. But I love that, because I don't need a bunch of creatives in a room trying to put a business together. I think it'll be a great marriage, working with them.
How are you going to balance this with your two other jobs? 
Well, busy is good. And fashion is fun. So, those are two positives. And you know, I'm an obsessive scheduler. You just have to be really methodical. This won't impact my job at Nylon at all — I'm an editor-at-large, so that enables me to do other projects and work. And I've been designing Lia Sophia's red-carpet collections for about ten years now, so I'll keep doing that. If you have a Blackberry and a cell phone and you're focused, I think you can make anything work. I've already mapped out the month and it seems pretty manageable and I'm pretty excited. I mean, it's Monday morning and I told you I'm excited. When does that happen?