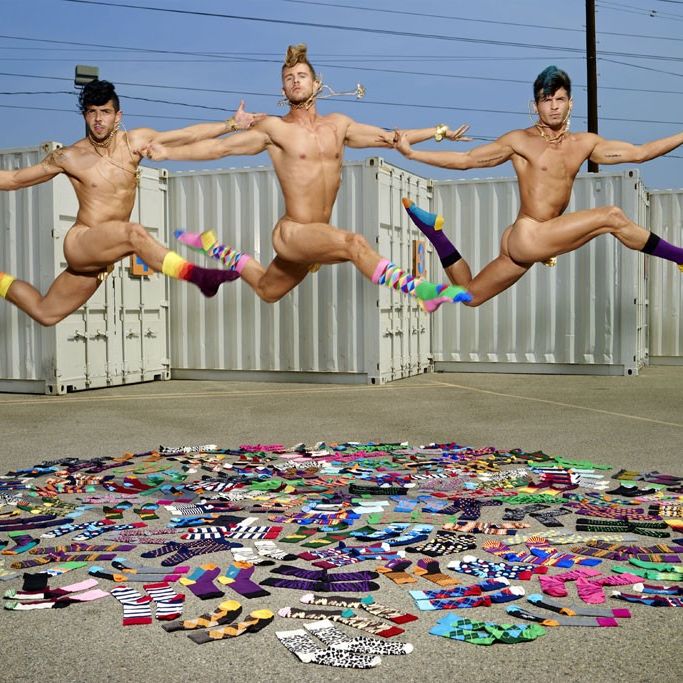 David LaChapelle for Happy Socks.
Photo: David LaChapelle for Happy Socks
Something to help David LaChapelle with his legal bills: He shot a fall campaign for hosiery brand Happy Socks, which features a troupe of dancers leaping about in nothing but, well, very cheerful socks. As anyone who's ever tried the socks-only look at home (or, even worse, watched a roommate do it, perhaps while shuffling around in the kitchen looking for coffee) should know, the result is usually not sexy at all, so congrats to these models for pulling it off.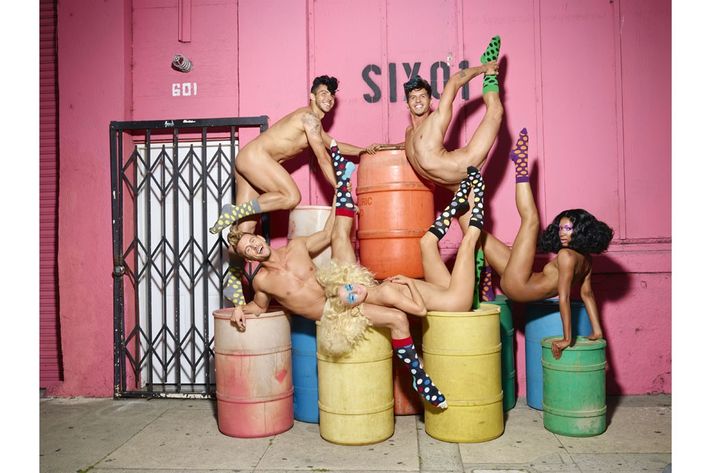 But the ads won't be all cute butts, toned quads, and exuberant jumping: LaChapelle has also created an arty video to go along with it, which will be aired on the brand's website. WWD explains:
In the nine-minute tale, titled "Happy Accidents," actress Katie Johnson plays a hooker possessed with an irresistible urge to dance, while her real-life mother, Melody Johnson, harangues her to return to the world's oldest profession, played out in Mandarin, no less. Happy Socks are worn throughout the surreal story, including on Katie's legs when they are severed by a train.
Dismembered prostitutes? Happy Socks has a dark side, apparently. Anyway, this marks LaChapelle's "return," of sorts — he has mostly avoided the fashion industry for the past few years, but he has booked quite a few jobs this fall, including the "Pop Touch" ads for Tod's and the campaign for Nicki Minaj's new fragrance, Minajesty.