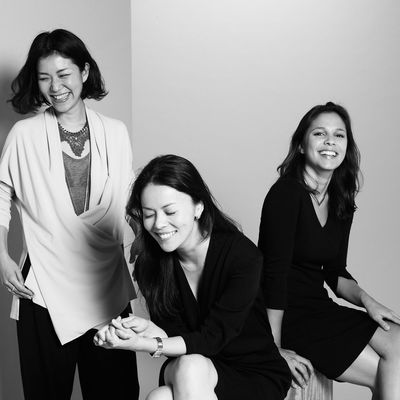 Photo: Courtesy of M.M. LaFleur
Sarah LaFleur spent her early twenties working as a business consultant at Bain & Co. She wore conservative outfits to the office every week, often working thirteen-hour stretches in the same drab suit. "All of my colleagues wore the same three brands," she says. "It's Banana Republic, J.Crew, and then Theory. We'd all have the same J.Crew Jackie cardigan in, like, five different colors." She knew she couldn't be the only one who wished for more stylish wardrobe options that were still office-appropriate. Two and a half years ago, she left her corporate finance job and founded her own fashion label, M.M. LaFleur, which bills its designs as "beautiful clothing for the purposeful woman."
The brand's small, tightly edited collection of chic, simple dresses is the result of Sarah's vision combined with the technical skills of Miyako Nakamura, a former head designer at Zac Posen. The business is expanding quickly, and they're in the process of adding belts, scarves, and eventually separates to their line.
In keeping with its entrepreneurial roots, the brand is also hosting a series of "Salon Night" discussions, co-hosted with yours truly at the Cut, about breaking into various industries. The first, held Wednesday night at Freemans, brought together fashion leaders like Ana Burcroff of Suno, Kent Kilroe of Freemans, and Aslaug Magnusdottir, formerly of Moda Operandi.
We spoke with Sarah and Miyako at their garment-district headquarters recently about the dearth of chic workwear, the importance of covering bra straps, and the needs of working women.
What made you decide to quit finance and start a clothing label?
Sarah LaFleur: Throughout my first job experiences, first at Bain and then at a private-equity firm, I never associated shopping with fun, because I was buying mandatory clothing that I had to wear. Yes, J.Crew does a really great job with bright, fun colors, but the professional women's section is very limiting. I actually had a chance to speak with someone who used to run suiting at J.Crew, and she was like, "Oh, we haven't changed the styles in four years because there's no competition, and why would we need to?"
How did you find Miyako?
Sarah: I knew from the beginning that I shouldn't be the one doing the fashion design. I had no background in it, although I felt like I had an idea of what beautiful clothing looked like. So I went to a headhunter — actually, I went to several headhunters, and most of them shut their door in my face. But then this one headhunter said, "I think you're trying to do something different and interesting. Let me see if I can help you out." And he introduced me to this incredible crowd of people, and Miyako was one of them. We immediately clicked.
Miyako: When we met, it was perfect timing. I'd been working for Zac [Posen] for a really long time, and I had left to freelance. Being in high-end fashion, you spend your life working for the next collection, in constant production. I lived that lifestyle for a really long time, and toward the end it was very, very difficult. I really started questioning what the entire thing was about. I adore fashion design as a job and as a form of creativity, but the industry really confused me. I would go into stores and see so many clothes, and it was so depressing. I was like, "There's so many clothes in the world. Do I need to produce more?" I just couldn't find a reason why this job was valid. And then, when I talked to Sarah, I was like, "Wow, there are some people who still feel like they don't have clothes to wear!" It was eye-opening to find a spot where people still need good design.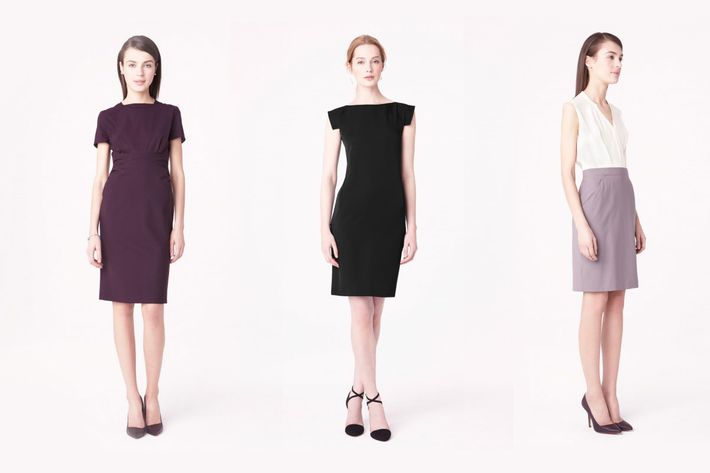 How did the design process begin?
Miyako: Sarah took me to J.Crew, and she showed me the kind of workwear that's available now. Then we had a focus group — she invited a bunch of her friends over, and we talked about what they want for work and what they can't find. This was all new to me because I've always worked in the fashion industry, where there is no dress code, and no one worries about their bra strap showing. You still care about how you dress, but in a very different way.
Sarah: It was so funny because Miyako honestly didn't know who this customer was. I'd be like, "Oh, you know those girls you see in the morning going to work in flip-flops and carrying their shoes in a Longchamp bag? They all wear the Jackie cardigan from J.Crew?" And she was like, "No, I don't know anyone like that." When we went to J.Crew, I showed her the Jackie cardigan, and she was like, "Why would anyone buy this?"
Corporate dress codes can be so finicky — how were you finally able to explain what was appropriate and what wasn't?
Sarah: I think one of the first dresses Miyako designed, she put a little V in the back as opposed to the front. And I was like, "No, you can't do that. It's just a hidden rule that you don't show your back." And suddenly I understood why it's so hard to find good clothes for professional women — designers just aren't exposed to these unspoken rules that exist in corporate settings.
Miyako: I also didn't understand that looking sexy has to be suggestive rather than obvious. At first I was like, "Well, doesn't everyone want to look sexy?" But now I know the rules of what's appropriate and what's not. At the same time we also want to push the boundary a little bit — our clothes are appropriate and basic but still very stylish.
Your price points are really reasonable, especially for clothes made in the garment district. How did you manage that?
Sarah: Even when I was working in finance and felt like I made decent money, I'd still look at luxury designer brands and think their prices were crazy. Like, those Victoria Beckham dresses cost over $2,000! But I still wanted to source our fabrics from the best mills in Italy and Japan and make the clothes here in New York City. We learned that if we actually sell directly to the customer, then could we offer it for a cheaper price point. We bypass the middleman. And our customers are usually really smart shoppers who understand gross margins and markups, so they appreciate that.
It's like the Everlane model, or Warby Parker.
Sarah: Exactly. So we're sourcing from the same places and making our dresses in exactly the same places as brands who sell their clothes on Madison Avenue for six times the price.
Miyako, do you ever miss high fashion?
Miyako: I consider this more fun now. I often get the opportunity to meet our customers because we do a lot of trunk shows. They come to events wearing our dresses, which is so rewarding. I also really cherish the fact that our clothes are meant to be kept for a really long time. Our designs are never stylish in a trendy way, but they're classic and beautiful. 
Sarah: We had a woman come to one of our trunk shows and say, "I need to find a dress for an interview." So we spent, like, 30 minutes helping her find the perfect one. She e-mailed us three weeks later, in January, to say, "Just want you to know I got the job." So it's nice to feel so interwoven with these people's lives.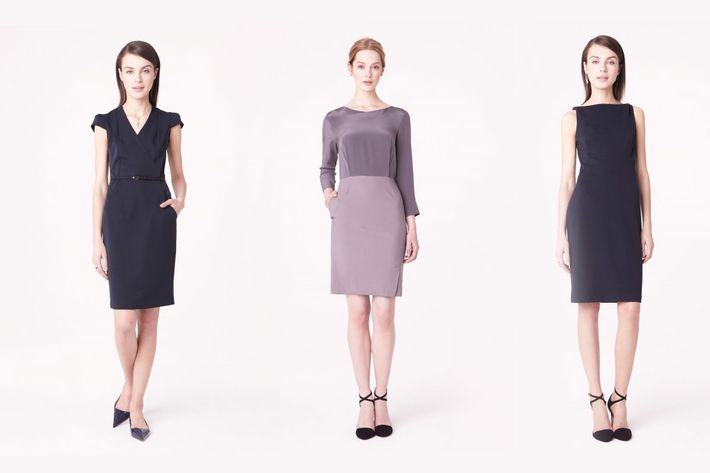 Do your dresses have any signature details?
Miyako: I love changing the construction of the dresses. Most contemporary designs have side seams, which are very standard — there's a back piece and a front piece that are sewn together. But when you move the seams and angle them differently, you can achieve very unusual shapes. It's like a sculpture. The more you play, the more refined you can get. When seams are cut on an angle, it has a slimming effect, and the fabric drapes in a more interesting way.
Sarah: We also really want to exceed when it comes to fit. We do between eight and twelve fittings for each dress, which is a lot — some designers just do one fitting, and even high-end brands do two, three fittings at best. Of course, we never claim that we fit everyone perfectly, because that's impossible. But in terms of achieving superior fit compared to other products — that's where we're probably strongest, which is important, because our dresses are so simple.
You currently offer fourteen dresses in very basic colors. Do you have plans to expand, or will you keep your collection very tightly edited?
Sarah: The good thing about workwear is that it's not terribly trend-sensitive. You could wear the same thing for five years or more, probably. So I don't think we want to flood our site with new things — instead, we want to continue to curate. We really believe in the products that we're offering. Rather than saying, "Here's 300 choices — pick," we've streamlined what we think are the absolute must-haves.
Miyako: But we still want people to be excited when a new thing is out. We refresh our color palette every season, so we'll have new colors for fall and new colors for spring, but the core always stays the same. It's not like we're going to have a whole new spring/summer collection for next year.
It's also nice to produce small batches of things that you're confident will sell.
Sarah: Yes, from a business perspective, that consistency helps us because we don't have to discount or throw away piles of clothes that are left over, which I think is something that's fundamentally broken with the industry.
Miyako: Every time I see a dress being made, I think, Oh my God, each individual dress, every single one of them, will be owned by someone! So you better make it good! That's not the case with many other brands.
What are you adding next?
Miyako: We're actually making a cardigan that's tailored to look like a jacket. It's made from the same material as some of the dresses.
Sarah: We're also adding belts and scarves. The scarves are made at this mill in Italy and then dip-dyed in Brooklyn.
Where did you get funds to start the company?
Sarah: In the very beginning, I put in half the money, and then my parents lent me the other half. And since then we've done a couple of fund-raising rounds to friends and family, who helped us out. We're now in the process of closing our first big institutional round. So, knock on wood. But the good thing about this business is that you have revenue from the beginning. We've been really lucky with our early customer base.
Do you plan to keep your factory in New York?
Sarah: I have nothing against taking business overseas, so long as things are being produced ethically. That's the most important thing. But since we're here, I feel such a connection to New York in a way that I never felt when I was in consulting. I was working seven blocks from where we're sitting, and it was a whole different world. I would get in at 8:30 or 9 in the morning and then work until 10 p.m. And occasionally I would go to a restaurant or maybe shop at Bloomingdale's. I never thought I would be in the fashion business, ever. But getting to see the manufacturing happen in front of my eyes is so powerful. I like to feel close to the product, and I think our customers feel that, too. But it's something we'll have to confront as we grow.