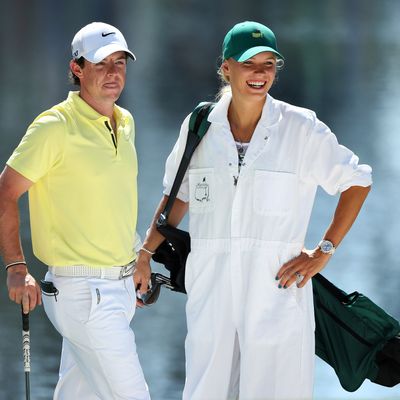 Photo: Andrew Redington/Getty Images
Danish tennis star Caroline Wozniacki tweeted a photo of her boyfriend of two years, Irish golfer Rory McIlroy, while he was asleep,  and may or may not have gotten dumped for it. (The New York Post says yes; Wozniacki cries, "No! Lies!") The photo, which shows McIlroy in glasses, mouth wide-open, slumbering gently, is pretty harmless in the canon of unauthorized personal photo tweets.  It is nowhere near as unflattering as 2010's "Katy Perry, Au Natural" by Russell Brand, so unless McIlroy has zero sense of humor, we're not sure the relationship is really over.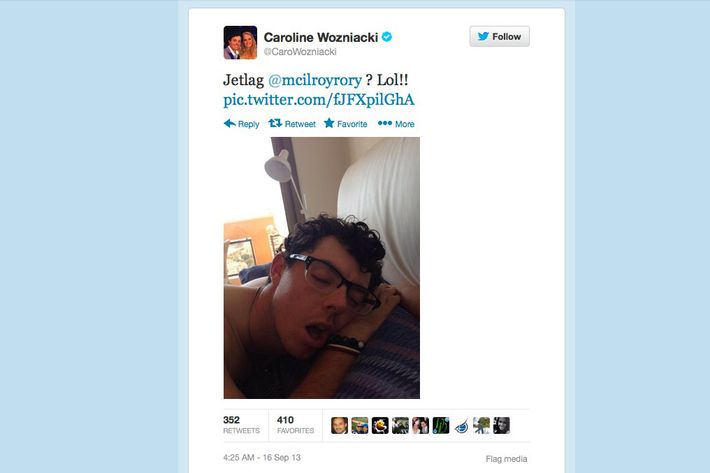 Unless, that is, McIlroy was taking the advice of golf great, Gary Player, to heart. Last week, in an interview with ESPN, Player took a moment share an unsolicited rumination on the kind of woman McIlory ought to be dating if he wants to win PGA tours:
"If you're a young man like Rory, you can't play with worries," Player said. "You can't have managerial problems, you can't have women problems. You've got to be out there and have a free mind. And that's why Arnold [Palmer], Jack [Nicklaus] and I won something like 55 majors between us. Because we had three wives that were very, very special.

"He's got to find himself a wife that'll help him, actually almost dedicate her life to him being a success. And that's hard to find today, because women are extremely independent today."
Obviously, a freewheeling, tweet-happy, powerful tennis pro is the first thing that's going to throw McIlroy off his golf game.