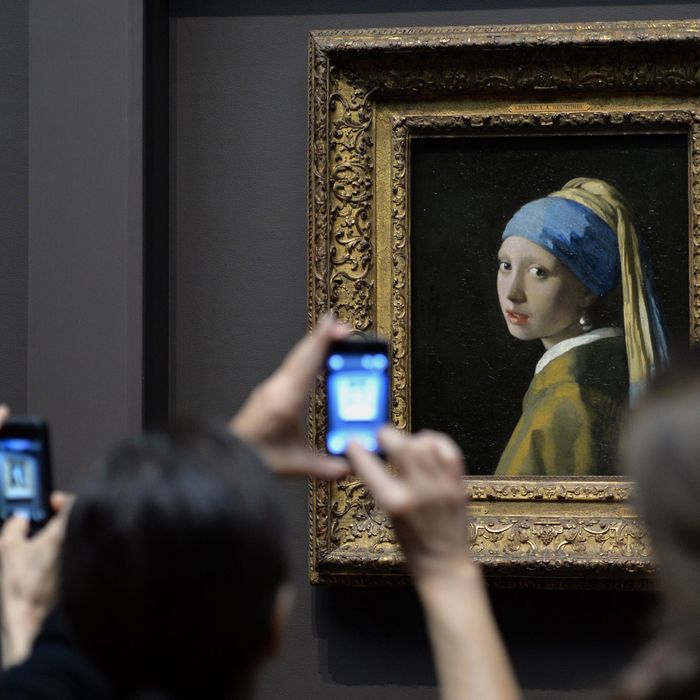 Photo: STAN HONDA/AFP/Getty Images
A historian has proposed that the mysterious Girl With a Pearl Earring actually painted a fifth of Vermeer's works. Adhering to the theory that she is Vermeer's eldest daughter, Maria (though this is disputed), Benjamin Binstock says that her possible aid to her father accounts for a handful of "misfit" paintings that don't match with Vermeer's level of mastery or approach to art.
Binstock is the first art historian who to give a chronological analysis to Vermeer's development, and he used this analysis to address the possible use of family models. People previously thought of these as individual paintings, and that a pupil or child might have helped Vermeer. But Binstock says he is the first to analyze them as a group.
These misfit paintings were traded and sold to pay off large family debts and rescue the Vermeers from financial ruin. So perhaps Maria Vermeer did her part and served as a secret assistant, essentially making copies of her father's style of painting.  Binstock also says that many of these paintings, like Girl With the Flute and Girl With the Red Hat, have a "self-portrait style."
Binstock hopes that this "might ultimately lead to the discovery of another unrecognized genius." We could have another Camille Claudel situation on our hands!