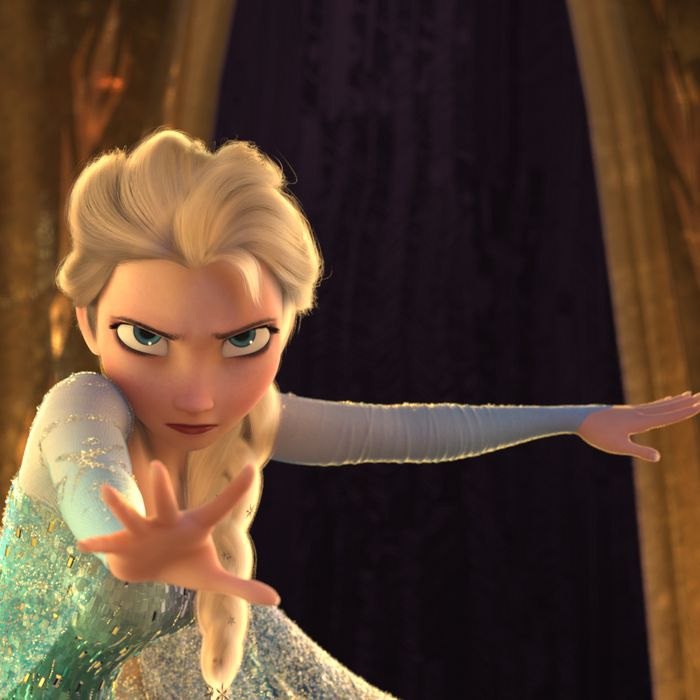 Disney's latest animated film Frozen stars Kristen Bell and Idina Menzel as the film's two female main characters. Two women in a movie is wild, wild stuff. Disney is literally breaking the mold with this thing! Lino Disalvo, the head of animation for Frozen, reports that it was a real headache to animate these two different women.
Historically speaking, animating female characters are really, really difficult, 'cause they have to go through these range of emotions, but they're very, very — you have to keep them pretty and they're very sensitive too — you can get them off a model very quickly.
Yes, being pretty is the opposite of experiencing emotions. Why can't "pretty" just be an emotion, and we could all go home early? Sensitivity and depth of feeling are difficult to maintain while drawing something interesting to the eye — and that challenge, as anyone will tell you, has nothing to with making art. Disalvo continues by reminding us that this difficult task was doubly difficult, what with having more than one lady character and all.
So, having a film with two hero female characters was really tough, and having them both in the scene and look very different if they're echoing the same expression; that Elsa looking angry looks different from Anna (Kristen Bell) being angry.
With this awareness, do the two women look different? Oh, yes, they absolutely do! One has red hair, bangs, and a tan in order to distinguish herself from her identical twin. Other possible relations? Perhaps Rapunzel from Tangled, and even Pixar's Jessie from Toy Story.
Certainly, Disney has animated soulful female characters in its recent past. The spritely Vanellope in Wreck-It Ralph (2011), voiced by Sarah Silverman, had a delightfully mischievous energy. The mother character from Brave (2012) had all the dramatic depth of Game of Thrones's Catelyn Stark. But, you know, each new female poses a whole new set of emotion problems.
In fairness to all creatures of the world, Disalvo did also mention that adding emotion to a snowman is super tricky as well.