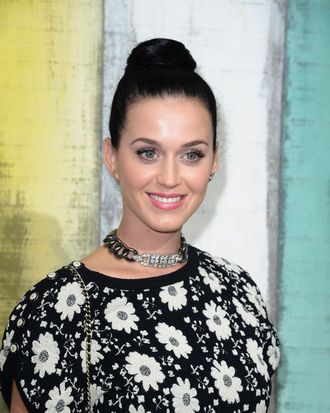 Photo: Pascal Le Segretain/Getty Images
Katy Perry talked to W magazine about her new single "Roar," in which she sings to a parrot about the empowerment to be loud in bed. "I do love a good innuendo," Perry said of the song. Wait, wait, wait, though. She wants to make sure you get all the aspects of it. Not only is it about roaring around in the sheets, it's also about confronting your personal personality bully:
This song is about sticking up for yourself. People talk about bullying, but you can be your own bully in some ways. You can be the person who is standing in the way of your success, and that was the case for me. I was having a great professional streak, but personally, I was really immature, so I had to balance those things out. If you are not happy with something, you should change it. So I went to a lot of therapy, and finally, I am able to speak up for myself: You are going to hear me roar!
Chill, Bully Perry. This is Kate's time. She's making songs that relate the concept of bullying to personal hang-ups. She's writing lyrics about overcoming individual immaturities. Because once you're over those, you too can play in a cheetah-print costume, straddling a fake waterfall and yodeling.