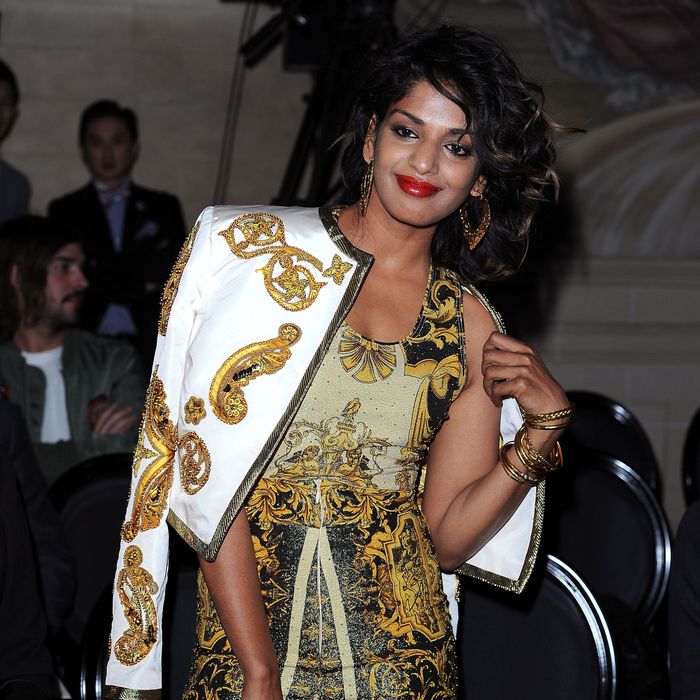 M.I.A.
Photo: Pascal Le Segretain/Getty Images
Perhaps in an attempt to drown out the buzz surrounding House of Versace, an unauthorized biopic about Donatella that aired on Lifetime this weekend, the designer confirmed today that Grammy Award–winning rapper M.I.A. has designed a capsule collection for Versus, her label's lower-priced line. M.I.A. previously dropped the news to a WWD reporter at the Balenciaga show in Paris last week, but the fashion house didn't issue an official announcement until now.
Based on M.I.A.'s signature look of brightly patterned pants, hoodies, and flashy sunglasses, her Versus line is guaranteed to be … loud. The label tells WWD the line will include "graphic prints with street energy" and a motif of "gold medallions [that] are reminiscent of the frenzy typical of the (market) stands." We can't remember the last time we saw gold medallions at a street market, but never mind. M.I.A.'s quote about the line is even more cryptic, particularly as she refers to herself in the third person:
The theme of counterfeits, of those that produce and sell them has always been part of the culture of M.I.A. … When I was contacted by Versace, it seemed a great idea to invert the circle. Versace's designs have always been copied, now it's Versace that copies the copies, so those that copy must copy the copies. So this will continue.
You know a quote is really nonsensical when Donatella's is logical in comparison:
I adore the energy of the street, so when M.I.A. proposed to expose the issue of counterfeit Versace pieces by creating a collaboration inspired by these items, I thought it was an incredible idea … The collection represents all that I love of the new Versus Versace: it's fast, it's noisy, it's brazen and it blends the world of music with that of fashion. I can't wait to see it worn.
Fascinating. Apparently, we will find out what she means when the line comes out on October 16, just in time for M.I.A.'s album release on November 5. We're still holding out for paper-plane-printed leggings.