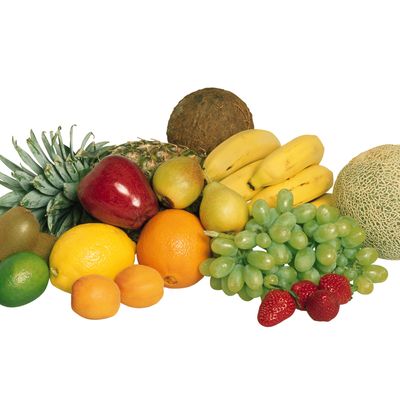 A 29-year-old entrepreneur from Edinburgh saw the fountain of youth in a sludgy green juice. Her elixir of life is the tears of a carrot; her philosopher's stone, a mix of bee pollen and berries. Susan Reynolds, the founder of Twist and Sprout, hasn't had a hot meal in seven years and reports that people regularly think she's 16. Credit all those ingredients she eats! No meals, just the stuff you make meals out of, like whole fruits, nuts, seeds, uncooked grains, and raw vegetables.
This is another totally convincing confession about the power of a fad diet. And of course, the path to rawness was fraught. Reynolds divulges that back in college she loved McDonald's, "shots of vodka jelly," and Chinese buffets. But then she went to India, studied yoga, returned home, and found a raw-food restaurant in Edinburgh. She hasn't eaten a warm bite since.
Oh, she loves her diet now, she claims, maniacally grimacing over a bowl of lettuce.
Susan! Share your secrets! Tell us how you fill your days, capturing those ingredients and protecting their innocence from those who would ruin them with recipes. 

Here is her schedule, by consumables: 

5 a.m.: Wake up, drink 750ml of lemon water
6:30–8:30 a.m.: Yoga. (Gotta feed that soul!)
10 a.m.: A liter green juice, which is "a whole lettuce, a bag of spinach, and bunch of herbs"
11 a.m. to 4 p.m.: Snacks. Snacks are defined as whole fruits (figs, mangoes, berries) as well as raw chocolate, that green sludge, and superfoods like bee pollen
6 p.m.: Big salad and another raw dish composed of fruits and veggies. Maybe some "soaked nuts and seeds."

"The benefits include [mental] clarity, positivity, health, energy, radiance and the ability to make choices. Other things people have commented on include smelling good, great skin and youthfulness. People say I look good for my age. I'm also emotionally balanced and happy."

Ah, yes! Making choices. For example, Reynolds made the caring choice to treat her family to a raw Christmas feast:
I made a fruit platter for starters — they loved it. We had raw mince pies made from nuts seeds and fruits for our sweet. I ate a giant salad with sprouted breads for my main course.
The pine tree was their elegant dessert. Each person was allowed to choose one glass ornament for a creative and seasonal garnish.