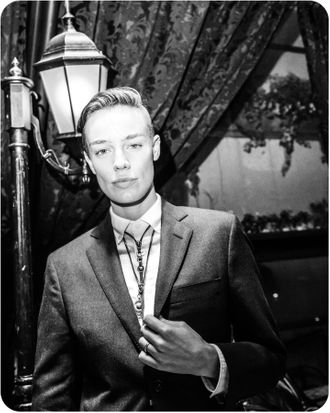 Elliott Sailors.
Photo: Matteo Prandoni/BFAnyc.com/BFA NYC
Model Elliott Sailors recently made headlines and appeared on the Today show when she reinvented herself as a male model. She's since been criticized for dramatizing her "transformation" — which Slate writer Katy Waldman called a "stunt" — in a way that's offensive and undermining to the trans community. Last night at the New York premiere of Big Sur, Sailors clarified that she really hasn't made much of a transition at all.
"Way before I ever cut my hair, I've always described myself as a guy and as one of the boys," said Sailors, who wore a suit and was accompanied by her husband, Adam Santos-Coy. "My closest friends have always been boys. I'm not extremely adept at athletics, so I don't know if I can say I'm a tomboy. But one of the questions I've asked is, 'Have I taken on a new persona?' And actually, now I feel much more relaxed and being myself."
Modeling as a woman, in fact, was much less comfortable: "When I first started modeling as a girl, I had to learn how to be feminine. Working this way now [as a boy], I didn't have to learn how to do this. I can just relax into it. It's much more authentic to who I am in front of the camera. I'm only representing myself and I'm only here to tell my own story. But I am in support of everyone expressing themselves the way that they want to express themselves, and that includes the trans community. So I'm absolutely a supporter of people being true to who they are."
She hasn't changed any part of her normal wardrobe or lifestyle, either. "I have never really been a girly girl," Sailors continued. "A lot of the clothes that I wear today [are clothes I've always worn], but people see it in a different way because I have a short haircut. The plaid shirts are not new." So is the switch working, career-wise? "Male models make less than female models do, and I knew that beforehand," said Sailors. "I've never been one of those high, top earners, but I've always made a good living, even now, so it's going well." Sailors added that she recently shot a campaign for suit-maker Alexander Nash and had some other projects in the works that she couldn't discuss.
We couldn't help noticing that the model immediately removed her husband's hand from her waist when flashbulbs started to go off, holding it discreetly instead. So has he had to change any of his behavior? "No," said Santos-Coy. "I've just never been on a red carpet, so I don't know where I'm walking!" Some things are awkward no matter what.