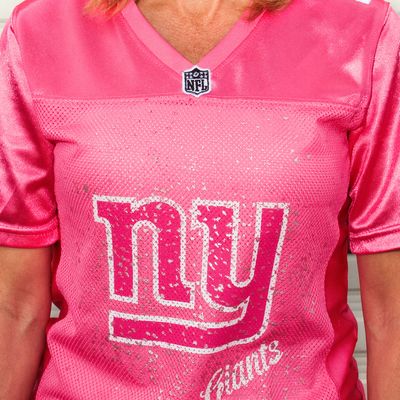 Roger Goodell — the copper-haired former jock who rose from National Football League intern to league commissioner — is an Esquire man if there ever was one. But he visited Hearst's Manhattan offices last month to toast a different title: Marie Claire, the earnest working-girl's fashion magazine. Alongside the style spreads of its September issue, the magazine published "The Savvy Girl's Guide to Football"— a sixteen-page insert sponsored by the NFL. It delivered fan-centric mini-features (a Q&A with ESPN's fantasy-football analyst, a blurb on Nancy Pelosi's favorite team rivalry) in between glamorous advertisements for the league's apparel line for women.
The guide is the "centerpiece" of the NFL's push into the women's sphere, and a logical extension of recent efforts to make its women's merchandise more fashionable. With the league mired in ethical and legal debates about the effects of head trauma on players, the sport's popularity among female spectators has emerged as a positive, perennial counter-narrative — one that conveniently softens its image. Hearst president David Carey called the Marie Claire guide a "formal outreach to women." If less than editorially enlightening, this outreach lacked the blatant condescension often leveled at women by sports media. And according to Goodell, the efforts have paid off. "Forty-four percent of our fans are female," he told the magazine editors assembled. "We are growing that fan base faster than any other, maybe with the exception of the Hispanic audience."
As his language suggests, "the female fan" is a bit like "the female voter": eagerly courted, often a little mysterious to men in charge. Women are too numerous to ignore — in fact, more women watch the Super Bowl than the Oscars. But nor are they a niche market. Attempting to seduce women en masse often yields an unfortunate combination of condescension and misunderstanding. What do women want? The football establishment's best efforts to answer this question have ranged from "sparkly things" to "hot guys" to "a website of their own."
NFL women's apparel is no longer as egregiously girly as when "pink-it-and-shrink-it" was coined to describe the default strategy for marketing to women. But the NFL's fashion-centric play — the ad campaign pairs team T-shirts with leather jogging pants and tiny dogs — belittles in its own way. The message is that for women, fandom is an excuse to dress up and entertain for an event more purely appreciated by men. The Hairpin's Emma Carmichael found what must be the most pathetic attempt at womanly merchandising: the high-heel shoe wine bottle holder. Such innovation might distract from what women really want from the NFL. Writing in the Atlantic, Shawnee Barton said she would trade Victoria's Secret team leggings and Cover Girl "fanicures" for a safer stadium experience any day. (Watching a woman get punched outside a Jets game, I'm with her.)
At Hearst, Goodell, the father of two young female football fans, preempted this critique. "There's some real fashionable pieces that will make you feel better, look better," he said, "if that's what you want." The stylish new apparel — which Goodell brought to raffle off — isn't a prescription for how to be a female fan. "It's more important for me to have you engage with the game, and do it on your level," he said.
Maybe your "level" is that you think the players are hot. "The number one thing in Japan was the tight pants," Goodell explained. "The female audience came to the game because they wanted to see the players in the tight pants. Okay, if that's what it takes to get you in the stadium, I'm there." Domestically, this randy iteration of the female fan is well cared for in Cosmo slideshows and yet more cheeky T-shirts. Meanwhile, at the sports bar, it's still assumed that if a woman isn't lusting over a player, she must be lusting over another fan. "There is the expectation among some football fans that you will know less as a woman," says Miranda Popkey, a former football columnist for the Morning News. "And also the perception that the only reason women watch football is to impress their boyfriends."
Patronizing stereotypes aside, it is possible that some women might watch football differently than their male counterparts. In the absence of other allegiances, for example, a friend of mine roots against known rapists. Popkey, bored of the dominant, stats-driven sports coverage, started her football column because she longed for season coverage that highlighted the personal narratives while acknowledging the sport's dark undercurrent of brain injury and exploitation. Which isn't to say that statistics are inherently gendered (20 percent of fantasy-football players are women, after all), just that an appetite for different approaches exists.
Staffed by actual female football fans, Marie Claire's supplement offers a vision of female fandom more sophisticated than the typical, "How to Talk to Your Boyfriend on Gameday After Making Him This Secretly Healthy Turkey Chili." Marie Claire editor-in-chief Anne Fulenwider described the guide as an entertainment-based complement to the magazine's bread-and-butter career content. "Marie Claire readers want to read about more than career strategies," Fulenwider said. "They also want to read about what they're doing for fun: music, books, movies — and sports." As for the football glossary — which has been gently mocked — it is no more instructional than the magazine's monthly "Fashion 101," she pointed out.
Meanwhile, beyond the NFL-sanctioned auspices of Marie Claire, former Patriots offensive tackle Brian Holloway is at work on a new football site for women, HerLeague.net. With a mix of personal essays and expert-advice columns, he envisions a kind of user-generated xoJane for football. He wants to cover topics unlikely to show up in a fashion magazine, let alone one where the NFL is buying ads: rants about the extra childcare and cooking duties imposed by game day, the dangers of head injuries in youth football, and the treatment of women by professional football players. The site leaves something to be desired, in volume and design, but Holloway says it is still in beta. (The launch was delayed after several hundred teenagers threw a back-to-school rager in his unoccupied second home in Albany.) He claims 50,000 members, and ambitiously estimates he will have 2 million by the Super Bowl.
What the NFL and Holloway's efforts share is a whiff of "separate but equal"— an implication that female fans differ from normal fans in some way. It makes one wish the NFL had more interest in making its dominant culture more welcoming to women, rather than constructing a just-for-her girlie ghetto. "Fanicures" and Swarovski-bedazzled T-shirts are a marketing opportunity, sure — but so are other things. Like, say, regular football jerseys. Popkey, for one, still can't find one without feminine detailing. "I don't understand why their idea is that a woman wouldn't want to just wear a football jersey in her size!" she said. For now, she wears a boys XL.