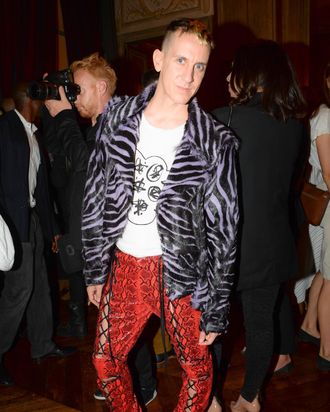 Photo: Joe Schildhorn /BFAnyc.com/BFA NYC
It's official: In a Twitter announcement, designer Jeremy Scott declared that he would be the new creative director for Moschino. Scott's ascent to Moschino is a bit of a designer rags-to-riches story. As he told Style.com, "It's kind of a fairy-tale story. I was the [Moschino] intern, and now I'm running the company." This is just continuing evidence that it always pays to be nice to your interns.
Since the news broke, well-wishes have flowed in from Miley Cyrus and Rita Ora. Both Moschino and Scott have a wry sense of fun and a Bart Simpson-printed dress wouldn't look entirely out of place at Moschino. "For me, one of the key elements of Moschino is humor," Scott added. "It's one of the few houses that has humor, and it's the same thing for me. Another one of the bonding elements is their written messages that express thoughts and twist ideas. We share an obsession with poking fun at fashion. Whimsy, also."
But despite the corporate appointment, Scott plans to retain his rebel edge. "I don't think I could've found a more rebellious brand than Moschino if I tried. It's so irreverent, things Franco did and things the brand's continued to do in his name. It's perfect."
Also, he might have a new job for Carlyne Cerf de Dudzeele, not that she needs one. "I absolutely adore Carlyne, she's like my family. I couldn't imagine someone better to have by my side. She's been aware of this since I got the phone call." Lucky, indeed.