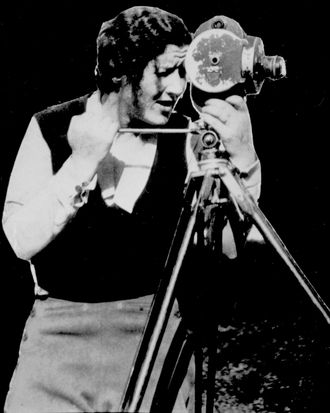 Photo: Scottish Screen Archives, National Library of Scotland
The Columbia University Libraries recently launched a rabbit hole of wonder, one worthy of a chunk of your afternoon: the Women Film Pioneers Project. The project contains a series of essays about women in the early days of the film industry. As Women and Hollywood puts it, the site does thorough work "to reverse the historical fallacy that the film production process is and always has been male-dominated."
The site is edited by Jane Gaines, Radha Vatsal, and Monica Dall'Asta. It already features a set of fascinating historical essays, like ones about early female film editors called "Cutting Women," as well as a sweeping piece about African-American women in silent films. So far, the Women Film Pioneers Project focuses on early film in the Americas; the next phase of the site will dive into the women involved in the early days of film in Europe.
One of the best parts of this fantastic site is the biographical essays. Each is more innovative, gutsy, intelligent, and sublimely fun than the last. Some selections:
Margaret Mayo — photographed with an amazing head of hair, next to an adorable dog — sounds like an intimidatingly efficient filmmaker and hilarious betting lady.
She won a bet that she couldn't complete a play in twenty-four hours. Attuned to the freshness of farce, the twenty-one-year-old actress accepted the wager, sketched her scenario, and dictated through dinner, producing "The Mart", a comedy in three acts, minutes before midnight … She employed parody, satire, and especially farce to dramatize social issues, relishing every opportunity to overturn dramatic conventions within credible situations.
Anita Loos, a early Hollywood writer who penned over 150 scripts, best known for writing Gentleman Prefer Blondes.
D. W. Griffith called her "The most brilliant young woman in the world."
Cube Bonifant was a film critic in the early-twentieth century, known for her "acid, mocking style." And, of course, she's got a name like someone born to contemporary celebrity parents. Hey, Cube.
As a critic, Bonifant was feared and loved at the same time, and this duality gave her a special position within the field of journalism as well as in the world of cinema…. After thirteen years as a film critic, Bonifant was described in the film magazine Hoy as "the most successful humorist in our medium, serene, ironic, with a clear propensity for precise, biting, wounding commentary."
Marie Dressler was an early comedian known for her character Tillie Blobbs.
A 1915 Moving Picture World review cited her fascinating "dare-devil instincts."
Winifred Dunn was one of the youngest scenario editors (of any gender) during the silent-film era.
A prizefighting film entitled The Patent Leather Kid (1927), was noted for its virility, as newspapers asked, "How could a woman know so accurately how bloody noses were made?"
Mary Pickford was an actress and co-founder of United Artists, the first independent film distribution company.
In 1911, "Moving Picture Mary" was the first movie star to adorn the cover of the New York Dramatic Mirror, an honor previously bestowed only on theatrical stars … In 1914, Pickford's Tess of the Storm Country, the story of a fiery young woman fighting for the underclass, caused a sensation. The extraordinary reaction made Pickford an international star and created fan worship that had never before been witnessed.
Alla Nazimova was an early filmmaker known for 1923's "flamboyant and slightly raunchy Art Nouveau" flick Salome.

Prior to this performance, Nazimova had a reputation as a moody Bohemian and political subversive (Emma Goldman once served as her press agent and companion) … As film historian Patricia White puts it, Salome stands today as a unique effort to produce a "female movie modernism."
So many new obscure women of yesterday to dress up as for Halloween.