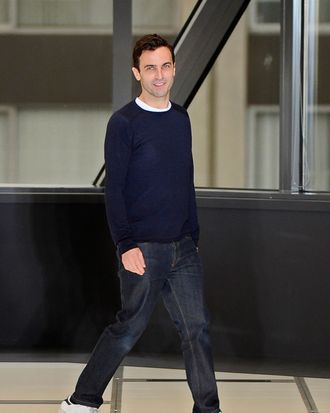 Photo: Chris Moore/Catwalking
Since rumors of Marc Jacobs's departure from Louis Vuitton began swirling, the industry started placing bets on who would take the reins. But as Jacobs' last show came to a close earlier this month, it became an open secret in Paris that Nicolas Ghesquière, who left Balenciaga last November, would be helming the crown jewel of LVMH. Today, according to Luxury Society, Ghesquière (still mired in a lawsuit with his former bosses) was officially hired as the new creative director of Louis Vuitton — although LVMH quickly denied it.* If the appointment eventually happens, which seems likely, he'll be tasked with keeping the runway shows as interesting as Marc did and, of course, ensure their luxury accessories business hums along as successfully as he did at Balenciaga.
* This post has been updated to reflect the current LVMH denial. Though, we're willing to bet, this won't be the last we hear.