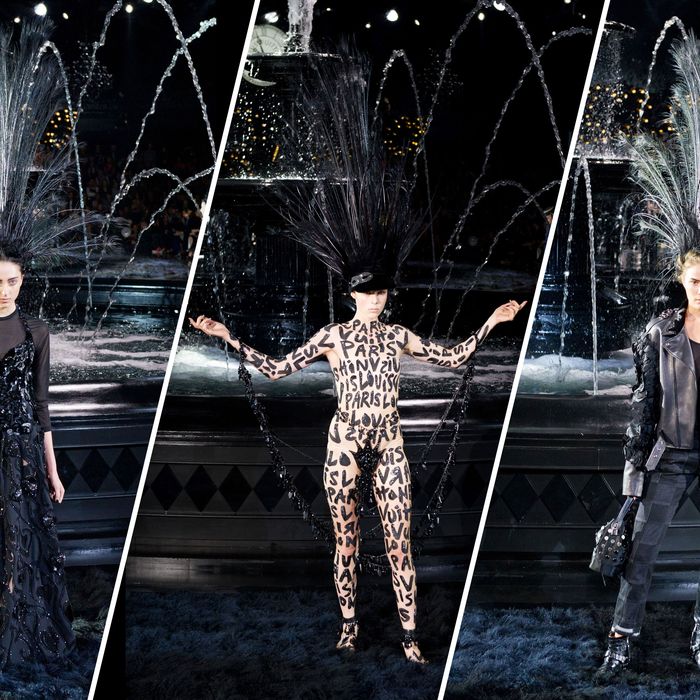 Designer Marc Jacobs ended his sixteen-year tenure at Louis Vuitton with a spring 2014 collection that celebrated fashion in its purest and least complicated form — as majestic, superficial beauty. The word superficial comes with such negative connotations, suggesting that whatever it is applied to has no value. But the emotional pull of beauty for its own sake cannot be underestimated. It is what draws us to a golden sunset, has us contemplating gardens in full bloom, and inspires us to climb a rocky mountain in search of the next magical overlook.
This unquenchable desire for visual pleasure, Jacobs wrote in his show notes, was what inspired the collection. Having spent nearly two decades working in Paris, where Louis Vuitton is based as part of the LVMH empire, Jacobs has had time to explore and admire the swirling belle epoque facades, gilded remains of the monarchy, and the shameless, petulant beauty of a modern city so enamored with its own good looks that it takes special care to ensure that it is always viewed in the flattering glow of gentle light.
His presentation, in a pink jewel box lined in black that was constructed in a courtyard of the Louvre, recalled some of the most memorable moments during his time at Louis Vuitton. But it was not merely a reiteration of the past. He paid homage to his own history via a few landmark props: the sleek escalators that marked the up-down antics of his fall 2013 collection, the joyful carousel of spring 2012, the old-fashioned clock pulled from the train station that served as the backdrop of his fall 2012 collection.
When that clock chimed ten on Wednesday morning, the lights went down in the already dimly lit room, with its black lacquer floor, black shag rug, and black filigreed railing that framed the catwalk. Jacobs was celebrating the showgirl in all his muses and most stalwart supporters, listing everyone from director Sofia Coppola and Vogue editor Anna Wintour, to Lee Radziwill and Cher as inspiration. The first model to emerge (the designer's latest muse, Edie Campbell) boldly announced the intent of the show. She was simply covered in jet graffiti — a revival of the street-art collaboration with Stephen Sprouse that marked an artistic turning point for the house. Her arms were outstretched and her wrists revealed stylized handcuffs and chains. And perched atop her head — and that of every model to follow — was a magnificent feather headdress created by Stephen Jones.
Aside from jeans that were modestly distressed, the collection was all black. It had to be so that the eyes were not overwhelmed by the explosion of embellishment, ornamentation, and reckless indulgence. Black leather motorcycle jackets were thick with jet beads and ribbon embroidery. Dresses had latticework through the waistline that was outlined in beading. It all took on the sensuality and moodiness of black magic. The monotone palette created a sensory experience based on texture, shadows, and the mystery of details suggested but not wholly revealed.
If Jacobs's time at Louis Vuitton has brought him anything — aside from a bigger bank account and a fine LVMH investment in his signature business, which he may soon take public — it is a sense of lushness. Paris is not a city that rations pleasures or is tight-fisted with opulence. Yet it is not one given to gushing emotion.
The collection that he presented as his farewell to Louis Vuitton was not one that celebrated French style. Instead, it was an American's enthusiastic thank-you to a city that had shown him a good time.