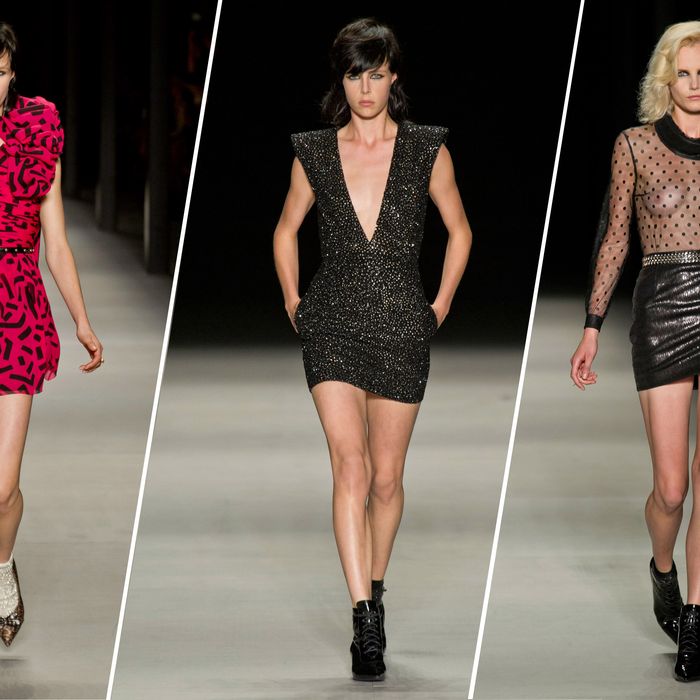 Photo: DANIELE OBERRAUCH/Imaxtree
Long ago the house of Saint Laurent cast a powerful spell over the French psyche, and to this day continues to hold the fashion industry in thrall. The spring 2014 collection by Hedi Slimane, shown at the Grand Palais Monday night, attracted a variety of acolytes who reflect the breadth of its appeal. The platinum-haired Betty Catroux, one-time muse of the house's namesake, sat in the front row. French designer Jean Paul Gaultier dashed in after the show was already under way, coming to see the work of one of the few designers of French lineage at the helm of a legacy brand. American rocker Lenny Kravitz was also in attendance* — a mix that suggests great tradition, national pride, and a certain pop-culture ethos.
Fashion rules have decreed that Saint Laurent's codes — its sacred DNA — must always be honored and acknowledged. This burden must surely make Slimane chafe. Respecting a house's history is one thing, being lassoed to its past, another. So it's no surprise that from the moment of his arrival three seasons ago, he's challenged those constraints. But this time, the pushing, reinterpreting, and reinventing went especially badly. This time, the collection was a sucker punch to sophistication; a jab at the very meaning of luxury, a humorless impersonation of cool. And worst of all, it was ugly.
Among the first models to come racing down the runway to the clashing rock of Liars performing "Mr. You're on Fire Mr.," one was wearing a short, tight, black minidress that sparkled like it was covered in diamonds. The neckline plunged to the vicinity of the bellybutton and the shoulder line was so broad and angular that it looked as though the dress was still on a hanger. Despite the revealing cut, it lacked any hint of sensuality, showed no affection for the female form, and moved with the fluidity of plaster. Hot on its heels were short, tight, black leather skirts worn with cropped jackets with bold shoulders, a waist-length olive drab military jacket, and a black tuxedo jacket topping a black leather miniskirt. A hot-pink one-shoulder minidress could have come from Romy and Michele's High School Reunion, and the coup de grâce was a cherry-red-and-black, tiger-striped, sequined minidress.
In an era of more delicate sensibilities, one might suggest that these were garments for a prostitute, but that's a far too simplistic and old-fashioned analysis. Nowadays, aggressive sexuality gets played for both provocation and laughs on the red carpet, in concert performances, and on television. One feminist would declare such a dress to be demeaning to women. Another would argue that the woman who wears it takes charge of her sexuality and dares anyone to judge her based on her wardrobe decisions. Either way, Saint Laurent is positioning itself as brand that, for all its luxury, looks shockingly cheap — its smooth confidence marred, not by youth, but by immaturity and insecurity.
As he has in the past two seasons, Slimane continued playing into the idea of the iconic rock star — this time with elements of eighties silhouettes and a few references to the scandalous 1971 Saint Laurent collection, of which critics associated its garishly colored furs with street-walkers. But these clothes resembled nothing so much as costuming for Rock of Ages, an ironic musical and film on eighties stadium rockers that was crafted with humor and affection. But there was no humor on the Saint Laurent runway. And real rock stars typically don't look like bedazzled showgirls. Modern musicians take the stage in more sophisticated attire, from Tom Ford tailoring to one-of-a-kind frocks crafted by Giorgio Armani and Givenchy. Coolness is derived from nonchalance, not this excruciatingly obvious flash.
So who will these ugly, ugly clothes attract? Who will they charm? Which attention-greedy celebrity will be their fan? Miley Cyrus, who's stumbling her way toward maturity via awkward public sex-capades, wore Saint Laurent to the 2013 Teen Choice Awards. And so that, one supposes, answers the question. It is not a sophisticated answer, but it is a lucrative one.
* This post has been corrected from its earlier version.