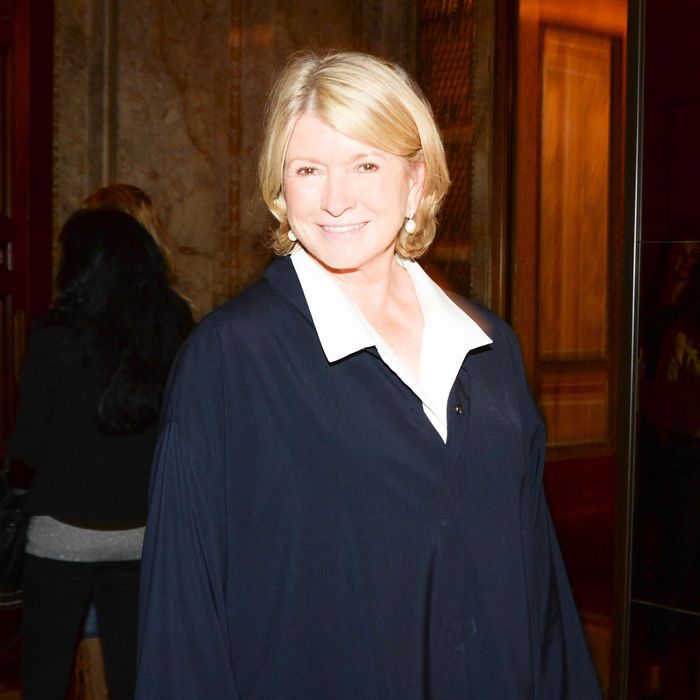 Photo: Joe Schildhorn /BFAnyc.com/BFA NYC
Gwyneth Paltrow has long been coming for Martha Stewart's artfully plated, home-cooked lunch. Stewart can no longer ignore the many arms of the Goop empire: cookbooks, proposed Goop restaurant, a Goop app, a Goop fashion line with Stella McCartney, etc. In an interview with Bloomberg TV, when Stewart was asked what she thought of Paltrow as the next "Martha," the domestic doyenne paid her this (backhanded) compliment:
"I haven't eaten at Gwyneth's house. And I've never seen how she lives. But if she is authentic, all the better. I mean, and I certainly hope she is. She really wants to be part of the lifestyle business … Gwyneth for example, has a book on the best-seller list. She must be doing something right. She's a charming, pretty person who has a feeling for lifestyle. She wants to be a lifestyle arbiter. Fine. Good. I think I started this whole category of lifestyle."
Somewhere out there, Gwyneth must be so ecstatic, she's going to treat herself to two celebratory cigarettes. But let's read between the lines here: Paltrow, don't forget who made you.