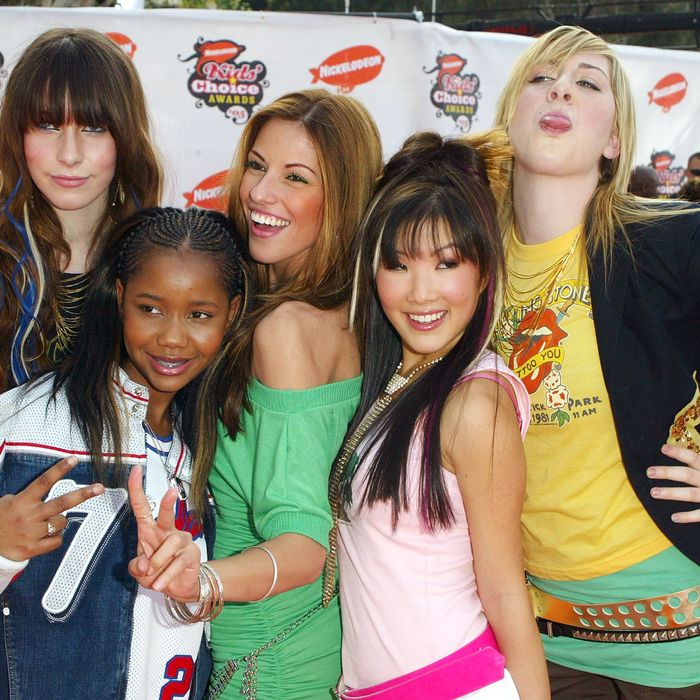 Photo: Matthew Simmons/2005 Getty Images
Haim is so cool. The band of three sisters (Este, Danielle, and Alana, plus drummer Dash Hutton) released an adored debut album at the end of September, and the R&B/folk darlings have proven that they're captivating performers. They collectively exude a natural, chilled-out vibe. They wear the type of clothes you'd want to wear to parties thrown by people who kind of stress you out, just because you know you would be buoyed by your outfit. That's how cool they are!
Well, once Haim didn't look cool at all. Actually, they looked mind-meltingly uncool.
The two older sisters in the band, bass player Este and guitarist Danielle, were part of a pop band called Valli Girls, with Ally Maki on keyboards, Lil' Nix on drums, and Raquel Houghton as lead singer. Their hair was emblazoned with lots of chunky highlights. They wore belts festooned with many a grommet, and a variety of faded denim miniskirts, the best of which features both an asymmetrical ruffle and shards of mirror attached to it. It's all very 2005.

Valli Girls' music sounds like the most over-chewed of tween-pop bubblegum. It's something that would appear in a Disney Channel movie in which the main girl character is in a band with her next-door neighbors to raise money to save their town, or something.
For a sampling of these musical stylings, checkout heartfelt slow jam "Always There in You," which was featured in the movie of The Sisterhood of the Traveling Pants. "Valli Nation" is a great example of the name-check lyric. But it's the Trollz TV-show theme song, "It's a Hair Thing", that's truly their best work. Here's how that one goes:
It's a hair thing,

It's a pink thing,

It's a tech teen fantasy.

It's a hair thing,

It's a big thing,

Music, fashion, magic, make us happy.
In their defense: mixing high and low cultures at all times and all moments is the current thing, so maybe the truest height of current cool is to have been part of a completely ridiculous band that created the theme song for an animated TV show based on the Trollz dollz.
Haim has long been into covering and elevating what might be considered pop cheese — like Sheryl Crow's "Strong Enough" and Miley Cyrus's "Wrecking Ball." It would be great to see Haim cover "It's a Hair Thing."