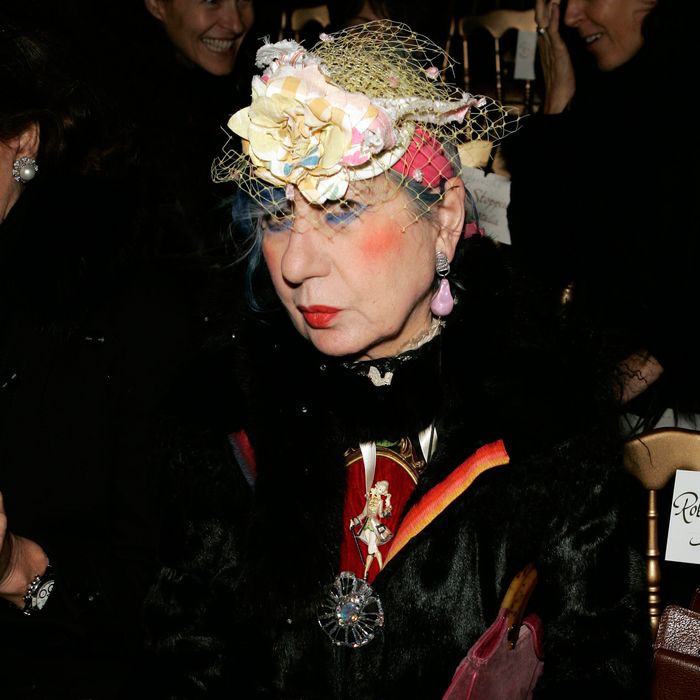 Photo: Jean Baptiste Lacroix/WireImage
Unsettling news: A hat belonging to the late fashion editor Anna Piaggi was stolen from Milan's Palazzo Morando last month, where it was on display as part of a millinery exhibition called "Hat-ology." The piece is one of the few surviving designs by photographer Bill Cunningham, who worked as a hatmaker in the seventies, and features a stiletto shoe affixed to the top. Piaggi's nephew Stefano tells WWD that it was reported stolen in late September:
"We tried to keep this unpleasant event secret until the end of the exhibition, but it's leaking out," Piaggi said. "We reported the theft but we didn't get any news yet."
Perhaps even more disturbing than the idea of someone peddling Piaggi's shoe-hat on the black market (blasphemy!) is how it was smuggled it out of the exhibit in the first place. It's not exactly the kind of headpiece that can be smushed up and stuffed in one's tote bag. And strolling out with a large hatbox would surely raise suspicions. Perhaps it was more of a Thomas Crown Affair setup, with a pre-planned diversion to distract guards from the real theft. Or! Maybe the burglar just put it on and wore it right out the door. After all, in the throes of Milan Fashion Week, no one would look twice at someone fannying around with stilettos on her head.