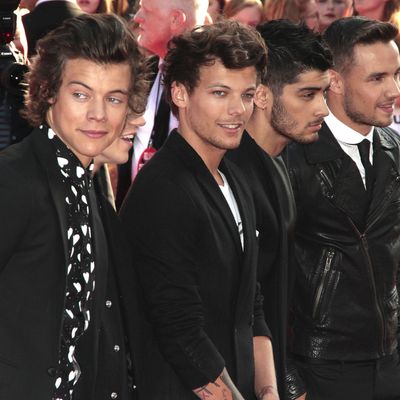 Photo: info100 / Demotix/Copyright 2013 Demotix, all rights reserved.
The mystery is over: Thanks to Sugarscape, the world now has a firsthand account of what Harry Styles's hair smells like. No, his hair does not have top notes of unicorn with a middle base of Taylor Swift's salty tears. Lou Teasdale, One Direction's hairstylist, reveals that, contrary to fandom folklore, Styles's hair doesn't smell like newborn babies and cinnamon, either.
Instead, his hair smells like "a combination of the One Direction perfume, some Fudge Urban Raspberry and Vanilla hair spray, and tour catering." The Fudge brand of products, specifically Fudge Matte Hed Gas, are the beauty products behind One Direction's perfect locks. So Styles smells like a mix of grapefruit, raspberry, vanilla, and the scent of pre-teen, teen, and adult lust?  Now we just need a copy of One Direction's tour rider to fully know what teen spirit smells like.