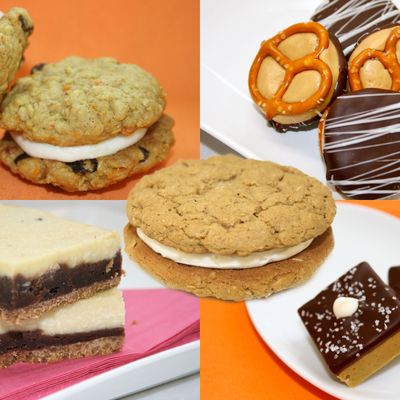 In the beginning, there were cupcakes; then came pie, and cake pops, and cronuts, and gluten-free everything. Everyone knows specialty baked goods are big business — but Karin Lazarus's baked goods are a little more special than most. As the proprietor of Colorado-based Sweet Mary Jane, she's brought a pastry chef's savvy to the world of pot brownies.
Lazarus sells treats like the "Smashing Pumpkins" (white chocolate and pumpkin) bar, the "Walnut Fantasy" bar, and carrot-cake cookies, none of which would look out of place at Magnolia Bakery. The "Big S" oatmeal cookie features two moist cookies with luscious vanilla frosting sandwiched in the middle, and could have been plucked straight from Paula Deen's oven. It also has enough THC in it to knock even a devoted Phish fan on his ass for a few hours.
This year, Lazarus's "OMG Cheesecake" brownie won the Rooster Cup, a taste test for Colorado's best pot strains and edibles, and she currently sells her goods in more than 100 medical dispensaries across the state. She won't say just how much money she's pulling in, but she has eight full-time employees working in an industrial kitchen near Boulder and says her business has quadrupled since she started out as a one-lady operation in 2010. Plus, Colorado's impending legalization of recreational marijuana means that she'll soon have the chance to sell her goods to a new market of out-of-state visitors. With her culinary skills, perfectionism, bohemian-meets-Etsy style, and place at the top of a booming business, Karin Lazarus is poised to become the Martha Stewart of weed baking.
In 2009, Lazarus won the $10,000 top prize in Scharffen Berger's "Chocolate Adventure" contest. The Long Island native had a professional cooking background — she'd worked previously as a test baker for Delicious Living magazine and gluten-free guru Elana Amsterdam — and she wanted to use her prize money to start a profitable business. She soon hit upon an answer: weed, which at the time was legal for medical use in Colorado.
"I thought it was just too perfect," she says. "I could bake, and I could help people."
Lazarus is one of the 106 businesses in Colorado given a Marijuana-Infused Products license by Colorado Marijuana Enforcement Division. While there are bigger companies in the marijuana-infused-products game (like Dixie Elixirs, which makes potent drinks and chocolates, or Chiba Chews, with its signature "hash chocolate taffy"), Sweet Mary Jane is one of the few, and one of the top, bakeries.
"They outsell everyone," says Robin Hackett, owner of BotanaCare, one of Lazarus's dispensaries. She explains that, in contrast with other vendors, Sweet Mary Jane's product is consistent, and the company doesn't make inaccurate claims about its power. Also: "She has a really keen ability to mask the flavor of cannabis," Hackett says. "It's not that pleasant of a taste."
Lazarus uses cannabutter in her recipes, which is basically butter infused with THC. (Her biggest tip for at-home bakers: Heat the weed before baking with it to release the most THC.) She says she first formulates and bakes her recipe with normal ingredients to see if it yields a viable and tasty treat. If it passes the test (she says about 75 percent of the things she tries make the cut) then she reworks it with the cannabutter. It's not always exactly the same as the treats she used to bake, though. "I had to redo all my recipes," she says. "Cannabutter is so much oilier, and my products aren't the same as using regular butter. I had to play around so the taste and texture is as close to the original."
Her first successful product was the Walnut Fantasy Bar, and she still remembers making her first sale. "I went to this dispensary and I said, 'I know these are very strong,' and he said, 'Everyone says that,'" she says. "He ate the whole brownie when he was sitting there. He called in two hours and ordered a bunch of them."
Since then, her business has grown mostly through a combination of word of mouth — the dispensary grapevine or through customer requests — and good old-fashioned marketing. Lazarus likes to drop off goodie bags for store owners so they can get themselves hooked, and she estimates that she gets an order from one new vendor every day.
Lazarus tailors each batch specifically to client requests, including the type of strain she uses and its potency. She doesn't especially like the flavor of weed, and when she wants to make sure the marijuana flavor is especially delicate, she uses THC-infused sugar instead of cannabutter. She can also make vegan and gluten-free baked goods — "Those are big in Boulder," she says, laughing. All of her ingredients are analyzed in a lab so she knows how much THC they contain: Each sweet has around 150 mg of the active ingredient, except for her granola-based Boss Bar (BotanaCare's best seller), which has 350 mg.
Lazarus says she smokes every now and again to get rid of a migraine, but she isn't a frequent user. She now spends more of her time dealing with dispensaries, orders, and deliveries rather than in the kitchen. She still engineers all of Sweet Mary Jane's newest edibles, though: like an upcoming key-lime-and-white-chocolate confection (much lighter than her other goodies) and the chai truffle that will be her next bonbon to hit the market. She's also preparing for the bureaucratic legwork of getting her recreational weed-selling license, and because the city of Boulder has a temporary moratorium on recreational-marijuana-sales applications, she's in a holding pattern until the end of the month. Even so, she says she's patient with the legal hassle. And though the regulations might be restrictive, they're not impossible.
"I would never do anything against the law ever," she says. "Ever."