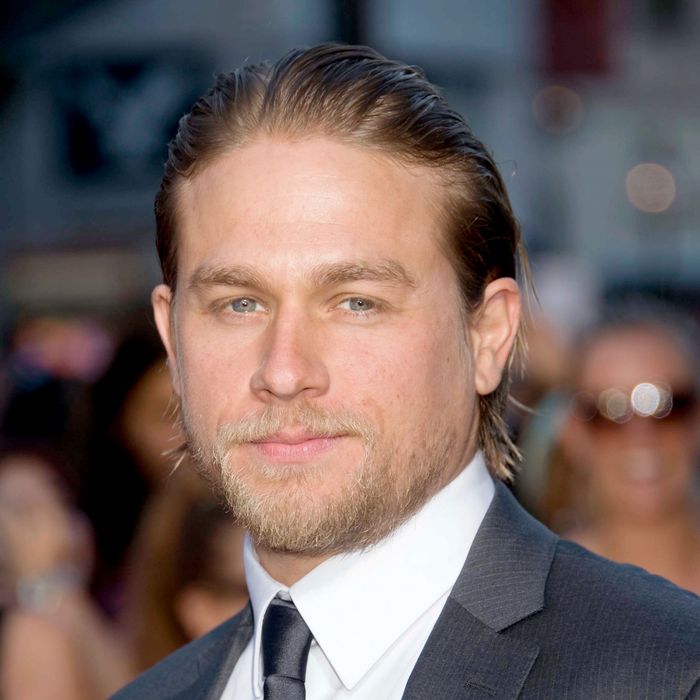 Photo: Gregg DeGuire/WireImage
Over the weekend, while talking to my mom on the phone, conversation turned to her favorite topic, Fifty Shades of Grey. "Don't you just hate that boy they cast as Christian?" she said. I asked her if she had ever once watched Sons of Anarchy. "No but we all agree, he is not Christian Grey." "Who is we, Mom?"
"All of us," she replied menacingly. The next day, Charlie Hunnam announced his departure from the film due to "scheduling conflicts."
Since the casting announcement last month, there has been an outpouring of WTFs and "Oh, NO, he is not" from E.L. James's biggest fans, who include all of our mothers and their fellow erotic-book-club members. They took to Facebook walls and Twitter feeds demanding that someone other than the gruff, beefy Hunnam play the role of Christian Grey, a suave, tortured sexual deviant with the soul of a lost boy.
Considering that E.L. James's best-selling trilogy was more or less the manifestation of hordes of women so sick of listening to their teenage daughters prattle on about a sexless vampire book, they invoked an erotic retelling into existence, it was only a matter of time before their ire yielded results. Even Hunnam himself acknowledged the cries of miscasting, saying in interview with Entertainment Weekly, "There are so many fans of that book and I know that on the surface, I'm probably not what everybody imagined. Because reading is so personal and people bring a character to life in their imagination, they feel ownership over that character."
That's right, Hunnam. You've been outed by soft-core-porn publishing's most powerful demographic. Your mom.
If this 87,000 signature Change.org petition has anything to do with it, it's only a matter of time before Matt Bomer officially picks up the paddle. Dakota Johnson, watch your back, girl.