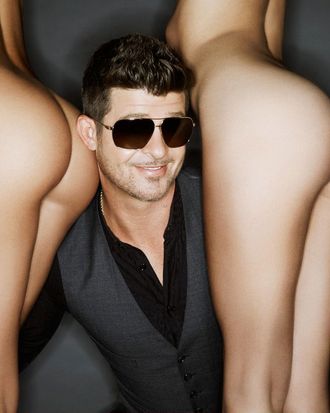 Robin Thicke.
Photo: Treats
Robin Thicke refers to his penis frequently. (A quick reminder, if we must: He spelled out "Robin Thicke has a big dick" with balloons in his "Blurred Lines" music video, and his song "Give It 2 U" includes the line "I'm big-dick swingin.' ") You can't go making those claims without backing them up, so Elle made a delicate inquiry:
I'm sorry, but how big is this thing?
Listen, compared to my son, I'm packing. If I'm next to LeBron James? It's probably not quite as impressive.
Thicke's son, Julian, is three. So Thicke managed to be gross, and insult himself and his toddler, all at the same time.