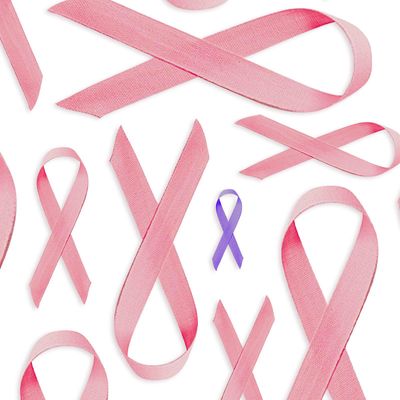 Rita Smith was watching football in 2009 when she noticed — as if it were possible not to — that the players were newly outfitted in pink socks and gloves. Her heart sank. "I was pretty sure we were toast," she says. "There was no way we were ever gonna match them."
Smith is executive director of the National Coalition Against Domestic Violence, which also claims October as its awareness-raising month. The signature color is purple, not that you'll find it on Yoplait lids or KFC buckets or Energizer batteries or, for that matter, NFL players, because October is already covered in pink. Breast cancer is, as many critics have pointed out, the perfect issue for corporate-funded cause marketing. It's got an unambiguous villain (CANCER) and a natural constituency (women). Saving boobies is a friendly cause that everyone — even frat boys and NFL players — can get behind. A straightforward health issue. 
By comparison, domestic violence is downright controversial. It touches on complicated issues like power, rape culture, victim-blaming, and gender roles, and stirs up uncomfortable emotions. While few people would claim they support abusers, many known perpetrators of domestic violence — from Roman Polanski to Chris Brown to a number of football players — remain venerated cultural figures. Is it any wonder that, even though domestic violence affects many more women and families, breast cancer is the issue we've all come to associate with October? Every year 232,340 women are diagnosed with invasive breast cancer; 1.3 million are assaulted by their husbands or boyfriends. One in eight women will suffer from breast cancer in her lifetime. One in four will experience domestic violence. Good luck finding that statistic on a yogurt lid this month.
The anti-domestic-violence movement staked its claim to October way back in 1981. "At that time breast cancer wasn't on anybody's radar screen the way it is now, so we got a lot of traction and visibility, and it worked for us for a really long time," Smith says. "And then it didn't." The Susan G. Komen Breast Cancer Foundation had been around since 1982, but its pink-ribbon campaign didn't really start taking off until the late nineties. And then it became a powerhouse. In fact, after seeing even the NFL turn pink four years ago, Smith made a plea to her fellow advocates to move to a different month, but couldn't get a strong consensus. "It's stayed in October," she says, "and we get the visibility we can get, knowing that we're probably not going to be seen above the pink."
In theory, nothing's preventing corporations from supporting both breast-cancer survivors and battered women. But "we've seen corporations that have typically supported domestic violence shift more and more funds to breast cancer," says Katie Ray-Jones of the National Domestic Violence Hotline. And that's happened even as critics have raised questions about how Komen and its ilk are spending those funds.
"I don't think that it needs to be thought of as a competitive situation," says Andrea Rader, a spokeswoman for Susan G. Komen for the Cure. "The breast-cancer movement took off because, just like for people who are victims of domestic abuse, there was a time when nobody talked about this disease. The reason that it's getting so much attention is that so many people are affected." She notes that when Komen CEO Nancy Brinker first started this work, corporations were reluctant to associate themselves with a disease. "Cause marketing was pretty much in its infancy," Rader says. These days, Komen has more than 60 corporate partnerships.
In contrast, "we don't have corporations that are lining up to say, 'I want to give to domestic violence,'" Ray-Jones says. "Companies do not want to associate with it." A handful of major corporations (Verizon, Mary Kay, Allstate, Avon) have consistently donated. But domestic violence as a cause can be a tough sell for corporate America — just as it is for the average consumer, who too often assumes relationship violence is a "he said, she said" situation. And even when anti-violence groups do manage to snag corporate money and celebrity endorsements, they tend to spend those resources on serious PSAs — like a new campaign called No More or a social-media effort called "How I See DV" (#seeDV) — rather than on upbeat, color-coded marketing.
The closest the domestic-violence community has come to mimicking Komen's beribboned consumerism is the Allstate Foundation's Purple Purse, a public-awareness campaign disguised as an online shopping experience that focuses attention on the fact that many women don't leave their abusive partners because they're financially dependent. This strikes me as smart: A purple purse is symbolically removed from the issue enough that it feels safe for the corporate world. I can imagine little purple purses on mascara or cereal boxes. It's much harder to picture a "How I See Domestic Violence" testimonial in such spaces. Advertising, after all, is aspirational.
The ubiquity of Pinktober proves that consumers are capable of linking a simple color or a jokey rubber bracelet with a deadly serious issue. This is what we call "awareness." And while many have argued that increased awareness won't necessarily cure cancer (or even save lives), it would go a long way toward helping victims of abuse feel less ashamed and isolated — and encourage them to reach out for help. "What I think that says to a victim is that people care about me. People care that I'm in danger. People aren't trying to sweep it under the rug," Ray-Jones says. After all, with an issue like domestic violence, public awareness is half the battle. Ray-Jones cites a recent study that found that 79 percent of adults had never had anyone talk to them about domestic violence.
It's not outrageous to think that, with a little bit of corporate backing, the color purple could become a shorthand for "domestic violence is not okay" — and that such a campaign could make a massive difference in saving women's lives. It is probably, however, a bit outrageous to think that such a campaign is possible in October. This month is already spoken for.