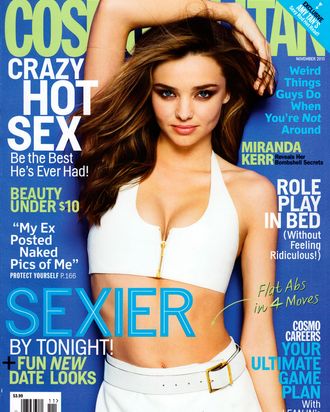 For Cosmo's November issue, cover girl Miranda Kerr, set against a bright-blue background that makes her limpid eyes unnaturally blue, reveals her post-work ritual. After a long day of underwear modeling, this is how she likes to come home and unwind with her hubby, Orlando Bloom:
Don't feel like you have to do and be everything. Let the man do some things for you, because if he cares for you, he will want to. When I get home, I'm not the boss like I am at work — I slip into a more feminine role. I take everything off and put on my Stella McCartney silk robe. I'll put on a red lip or red nails, and it lifts my mood. Sexy underwear also gives you a spark. I collect underwear from my travels. Lace, lingerie, bodysuits … they're like souvenirs.
The transition from on-duty lingerie makeup to couch-appropriate off-duty lingerie and full makeup really helps create that work-life, home-life separation.